"Fragments of Anna Dickinson" by Sarah Hahn Campbell
In response to your inquiry. . .
. . .This is a photograph of Anna Dickinson in 1862.  Anna stands behind the carved chair in which the great Susan B. Anthony poses with one hand in her lap, the other holding a quill over a sheaf of paper at a desk.  Anna's plain black Quaker dress buttons up her neck.  
. . .In this photograph, Anna stretches naked on a large white bed, her dark hair loose around her head and shoulders, her mouth curved into a secret smile.  On the back of the photograph, Susan B. Anthony has written:  "1863.  My beloved Anna Dickey Chickadee."
. . . In this photograph, Anna stands in pantaloons flanked by two men.  All three lean grinning against an enormous boulder on a mountain summit.  Someone has scribbled at the bottom of the photo: "Anna.  Boulder-rolling.  Colorado Rockies."
. . . And in this photograph, Anna in her Quaker dress faces a crowded hall from a podium, papers in one hand, the other hand outstretched to the sky palm up to invoke God.  On the back, the inscription:  "1875.  America's own Joan of Arc."
What She Was Not
Anna Dickinson was not a man.  She could not wear pants or shirts that did not constrict her breath.  She could not own property or inherit money or vote in any election.  She could not marry a woman she loved. 
She was not beautiful.  She was not dainty and she was not gentle.  Her eyebrows were not fine and her nose was not small.  When she stood to speak, her voice was never soft. On her way from climbing Long's Peak to climbing Pikes Peak, she did not ride inside the train to Colorado Springs, but perched like a goddess on the cattleguard, the wind in her hair. 
Anna Dickinson did not love men as lovers and she did not love women as mountain climbing companions. She never slept with a man and she never slept with just one woman.  When she wrote love letters to Olive or Susan or Sarah or Lou, she was not shy.  She was never satisfied that she had done or seen or heard or loved enough. 
Anna Dickinson was not a man.  And yet when she spoke against slavery on the Lyceum stage, the newspapers said she was not demure enough to be a woman.  When she played Hamlet in New York in 1881, her harshest critic wrote, "We always knew Anna Dickinson was actually a man."
Once, she wrote to her lover Olive Logan, "Someday, some of us will become so overcome with passion that we will become men, and we will make furious love to our beloved women, and then we shall be married, and live happy forever more."
Anna.  Ms. Dickinson.  American Maid of Orleans, bearer of the fleur de lis.  I am not a man.  I am a woman,  and I am your vision. 
Anna.  If I write your story now, will you hear it one hundred years ago?
____________________
Share your response to this work, in any form, here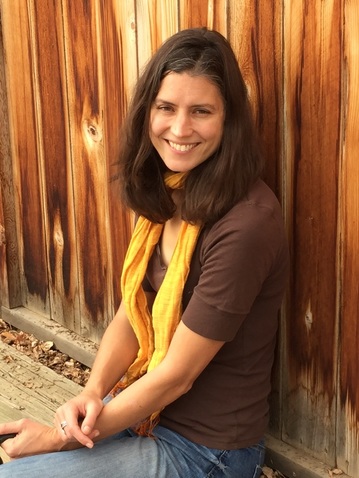 Sarah Hahn Campbell Artist Statement:
Sarah Hahn Campbell lives in Denver, Colorado, where she teaches high school English and parents her daughter Mitike with her wife Meredith. Campbell has published work in a variety of publications, including The English Journal, Curriculum and Teaching Dialogue, Curve, Room Magazine, Sinister Wisdom, Iris Brown Lit Mag, and Adoptive Families Magazine. Her novella-essay, The Beginning of Us, came out in January 2014 from Riptide, and her collection of essays, Grief Map, came out in June 2017 from Brain Mill Press. Originally from a farm in eastern Iowa, Campbell holds an MFA in Creative Writing from Naropa University. She is currently working on her doctorate in education research from University of Northern Colorado (expected graduation 2025). Like her page on Facebook.