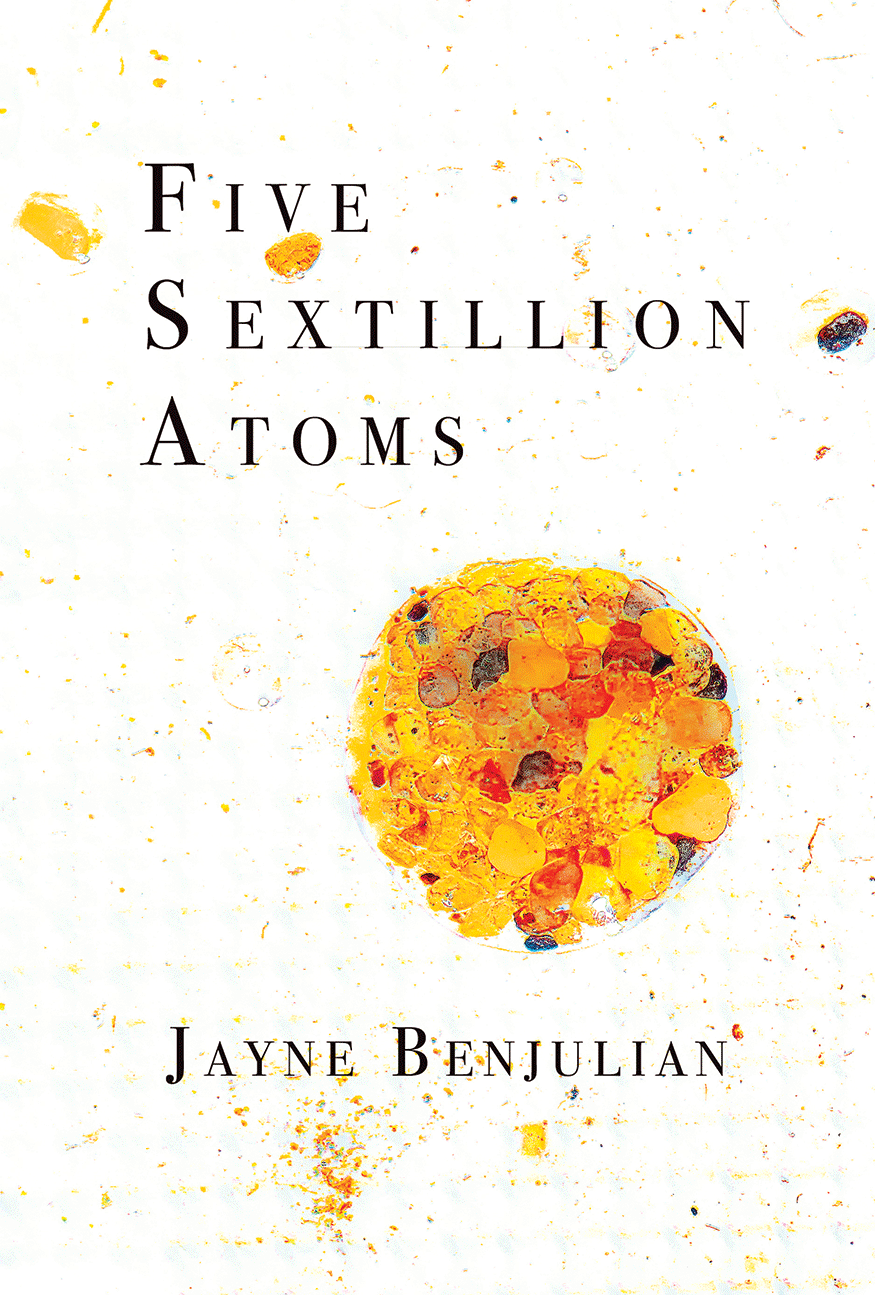 In a single drop of water there are five sextillion atoms, yet Earth in relation to the rest of the universe is infinitely smaller still by comparison. Jayne Benjulian takes this astonishing fact for the title of her first collection of poetry and aptly so, for these poems hold vast reaches of perception, loss, personal and family history, all with admirable compression. Among the stories these poems tell, one is the making of a poet.
Purchase
Praise for Five Sextillion Atoms, Saddle Road Press, June 2016.

As Roethke said (after Shakespeare), you must "kill your darlings," must not flinch from deleting words, lines and even stanzas you love. You must, that is, if you want to write like Benjulian in lines that are taut, spare, and fiercely compressed. I admire her poems, too, for their cinematic sense, complete with deftly-drawn characters, vivid scenes, and authentic dialogue, and for how they align family drama with the drama of the human condition.—Rebecca Foust
"My AROHO Story," by Jayne Benjulian
In the summer of 2011, a pivotal year in my artistic life, I attended the AROHO Conference at Ghost Ranch. After spending a decade writing speeches and working in theater in San Francisco, I had re-committed to creating my own work and prioritizing my writing over the writing of those whose work I was guiding toward production. After so long away from what it meant to be a poet, I was searching for inspiration and mentorship. I don't remember precisely my frame of mind at the time. What I do remember: mountains, dry, hot air, a geography that urged me to look at the sky as if I had never seen it before; and meeting women whose identity as artists was central to their lives. Some of these women have remained at my heart's core. One read my poems and wrote a recommendation to Warren Wilson, where I earned my MFA three years later. She and I exchange manuscripts now. One publisher first heard my poems at AROHO and said she loved my work. That was Ruth Thompson at Saddle Road Press. When I asked a mentor whether or not I should publish my first collection with a tiny press, she said, If you have found someone who loves your work, you have found the best possible publisher. Each year, with few exceptions—notably the cataclysmic year of 2020—I have spent a week in one of my favorite places on earth, Gualala, California, with eight writers I met at AROHO. These are my people, AROHO people.