"Ethel Finds Money" by Karen Heuler
My adopted sister Ethel sat opposite me at the dinner table, waiting for the food to arrive in the multicolored bowls Mom had gotten long ago, to cheer Ethel up and encourage her to eat. Ethel was humming to herself, kicking her legs back and forth; I could tell because her body rocked rhythmically. She often did it. She picked up her fork, examined it, and put it down. My father came in from the garage, cupped his hand over Ethel's head (she always looked up, grinning) and sat down. There was a paper in his hand, as usual. My mother didn't allow anyone to read at the table, but she was still in the kitchen.There was salad and bread already on the table, and a container of milk, which I began to study—Gilbert Santiago, aged 2. His hair had been wetted down and parted. He wore a short-sleeved white shirt and clip-on bowtie poking out from between his suspenders. He had probably just stopped crying when the picture was taken.
Mom came in with a platter of meat and a bowl of mashed potatoes, slipping them onto the table, seating herself with satisfaction, flipping open her napkin, and bowing her head. "Grace," she said, her hands clasped together. "Bless us O Lord," she began, prompting us to join her. She heard two voices, not three, and looked over to Ethel, who was unfolding a twenty-dollar bill.
"Where'd you get that?" my mother asked.
"It was in my pocket," she said. It was crinkled beyond her ability to smooth it out, but she kept flattening it with the palm of her hand.
"How did it get in your pocket?" my father asked quietly and I smiled, my head lowered.
Ethel heard something in his tone and frowned with concern. "Is it my birthday?"
"No. It's not your birthday. How did it get in your pocket?"
She looked anxiously from face to face, all of them with serious looks. Even mine was serious. "I don't know," she said. "It was just there." Her mouth began to hang low and a little air of gloom settled on her shoulders. "I found it," she said. "I found it."
"Well," my mother said finally. "People lose money and people find money. You're a lucky little girl." She picked up the platter, moved off a slice of meat, then passed it to my father. "Eat up now." Dinner was quiet, with the twenty-dollar bill settled next to Ethel's plate like a napkin. She left it there after dinner as she went off to her coloring book before bed. I left it there as I cleared the table.
____________________
Share your response to this work, in any form, here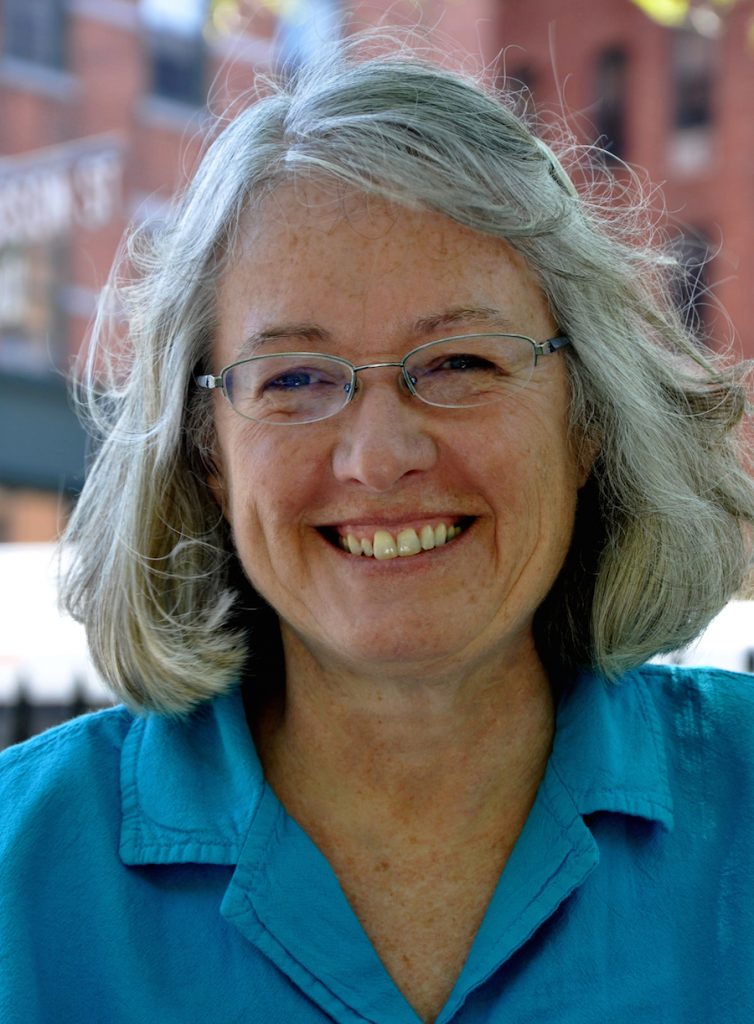 Karen Heuler's Artist Statement: Karen Heuler's stories have appeared in over 90 literary and speculative magazines and anthologies, from Alaska Quarterly Review to Clarkesworld to Weird Tales, as well as a number of Best Of anthologies. She has published four novels and two story collections with university and small presses, and her last collection was chosen for Publishers Weekly's Best Books of 2013 list. She has received an O. Henry award, been a finalist for the Iowa short fiction award, the Bellwether award and the Shirley Jackson award for short fiction. In October, Aqueduct Press will be publishing her next collection, Other
Places, which follows women facing strange circumstances on this world and others.