"Erotics of Making" by Barbara Rockman
The woman brings her body to the page     
the way a climber clamps her thighs to the rock face   
the way a lover drops the last garment   
the way a girl crawls into a copse and, singing, arranges acorns and logs    
the way a mother skips away from the departing school bus. 
What is arousal?   
Words at the pen tip, ink rich as clotted blood.
Hairs lifted and sinew flexed.     
Grip the lid, release vinegar, cut lemon.     
Row out into ooze, lean beyond the oar, raise the leg to climb over 
into the silt lake bottom, toes sucked down, fear of disappearing.
Kiwi's furred cheek. Rotting peach eaten anyway. Cuticles burnt by salt.  
Aged breasts relinquish what's been missed.    
Blackened lilac slumped to elegy. Aretha's dropped fur.
I'm in love with women who liquefy my pen, who swing my arms out from my sides. It happens when I enter their poem, etching, collage, teabags hung from the spine.     
One says, After months, inspiration came. Her face beatific, saint of the uncensored.   
One says, in my studio, Deep in the making of, I am orgasm.  She swells rice paper into garment, each gesture a seduction.
One settles by a meadow, her soft body bent to click click, crow call. A deer stares. She is so away into; she is invitation. And I am, yes. Without lifting from tap and wonder, lost in dream time, she beckons.  Teacher/student?   Elder/youth? No. Women.
Another's name like a razor cuts me limb from history, tugs my fingers out and rearranges them into a new appendage. She makes of me a placard that screams   
Violence to save the female race. She introduces me to her friend, Clarice.
And the long armed sister of a past life who understands addiction to doubt          throws 
Best Of by men across the room. Pages flail like wings of a dying breed. She takes my hands across a table scattered with scratched out words, whispers, 
We must create a new country.  She works her fingers into my tangles.
These women raise a mirror, burn through glass.  A marbling of inkblots and burst meteors. When a silver surface is stripped, a black pool gushes.
Theorist and artist, mother and lover, mentor and apprentice, marriage bed, ocean edge: the hundred seductions, the thousand spent bodies.   
Aftermath: bliss.    
I have made this; I have read you; you have listened.     
We sleep the sleep of each other's dreams. 
We become the tale, Lost in the woods. But 
we return home. Purpled dusk, hour of sap.
We grip oars. We climb over the lip. 
Gratitude to Ann Laser, Cynthia Fusillo, Carole Maso, Hélène Cixous, Clarice Lispector, and Marie Howe, mentors, friends and fellow travelers, and to all the women whose creativity fuels my own.
____________________
Share your response to this work, in any form, here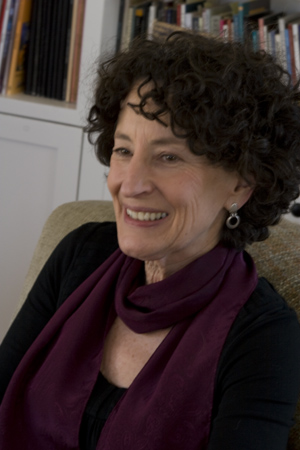 Barbara Rockman Artist Statement:
Barbara Rockman teaches poetry at Santa Fe Community College and in private workshops in Santa
Fe, New Mexico. She is workshop director for Wingspan Poetry Project offering classes for women who
are victims of domestic violence.
Her poems appear widely in journals and anthologies and have received two Pushcart Prize nominations,
the New Mexico Discovery Award, The MacGuffin  Poets Hunt Prize, Southwest Poetry Prize, and the
Baskerville Publisher's Prize. She is editor of the anthology, "Women Becoming Poems," and author of
"Sting and Nest," which received the National Press Women Book Prize and the New Mexico-Arizona
Book Award. She has collaborated with artists on numerous image and word installations and has been
awarded residencies at Atlantic Center for the Arts and Playa Summerlake.
Barbara received her MFA in Writing from Vermont College of Fine Arts and her M.Ed. from Antioch
University-New England.