Dear Creative Woman,
Do you have a room of your own?
We want to hear from you.  Find the submit button to the right and share your creative response in art, prose, poem, photography, essay, music and more.
______________________________________________
"Solitude" by Jana O'Dell
Quiet yet chaotic,
this room holds all my secrets,
all my faults and shortcomings,
yet it still sees how fragile I am.
No one knows me better than this room,
where I cry, laugh, and scream.
This sacred space is just something small,
yet it is everything to me.
It calms my mind,
quiets my soul,
repairs my broken dreams,
and makes me feel whole again.
It is my mind's only solitude.
I am a mother of three and wife to the most amazing woman. I struggle with many mental health issues and through poetry, I am able to safely express my inner feelings. I have found my personal experiences are all I need for helping heal myself through writing. – Jana O'Dell

In honor of World Mental Health Day this October, we are grateful that women of AROHO share their experiences in creative expression with all of us, raising awareness. Thank you, Jana and every woman who finds the courage to step forward and to share your words, your healing, and your wisdom.
______________________________________________
"The Room That Grows" by Gwynn O'Gara
The room I named my studyo is upstairs in our house. It's where I read, write, think, practice
yoga, and keep track of earnings and expenditures. Over 23 years I've assembled journals,
books, feathers, stones, shells, family photos, jewelry, art, broadsides, and bouquets living and
dry. At the east window sit file cabinets and two desks, one with my computer, the other with an
inbox; a day bed and a book case share the west window. Bookshelves line the walls; a couple of
rugs, chairs, and tables hold more books, acorns, seaweed, et alia. This studio, library,
laboratory, launching pad, office, gallery and getaway invites me to experiment, invent, and
cultivate peace, clarity, joy, ease, and the fallow state that sometimes precedes creativity.
Before my husband, son, and I moved to the edge of this small town 23 years ago, my need for a
solitary workspace was met by the diminutive dining room of our tiny San Francisco apartment.
While on a business call during the 6.9 earthquake of '89, I sheltered under my desk as the world
shook and shook and shook. (The man I was interviewing tried for days to reach me to learn that
I was safe.) Under the chandelier I'd recently inherited from my mother, I also worked on poems
and stories. When our son was born the following year, my study became the nursery and I
moved to a desk in the living room. No matter how my room changes, it always holds me; I just
need to recognize its sometimes invisible walls.
My current room's off our kitchen under a severely slanted southern roof that limits half the
room's length to short people and low bookshelves. Windows at both ends bring in dawn and
dusk, trees and traffic. To let in more light and air I crank open two screened and shaded
skylights. On broiling summer days, despite the fan I place beside me, the space becomes
uninhabitable so I descend to the below-ground playroom that I'm slowly turning into my
library. But on summer nights my studio's a tunnel of cricket song, pulsing so palpably it
vibrates through the bones of my head. Pacific wind regularly sweeps through and fog doses me
with minerals and messages. Winter rain drumming on the skylights gets intense. Proximity to
the kitchen provides bursts of focus during dinner prep, which has kept me sane over the years
but can detract from my cooking.
Along the high wall, my husband and I built a gap in the bookshelves, where I hung a Mexican
mirror festooned with snakes and flowers. Because of the abundant light, it's where I put on
makeup, and brush and braid my hair. Gradually an eclectic altar's grown up around the mirror
with photos of my mother and grandmother, father and brother, statues of Guadalupe, Buddha, a
Taoist holding a tea cup, a Navajo Grandmother Doll cradling a baby, a straw Rice Goddess,
frogs, fossils, angels . . .
I didn't have to fight for this room, but others before me did. After a youth of relocations and
losses, and during the stress of the early years of marriage and motherhood, my room served as a
healing haven, and I give thanks every day for how it continues to nourish and root me.
As a child I was answerable to anybody but myself, mostly to my mother and the nuns at school,
who trained me to be an extravert and sacrifice my needs and wants for their comfort. (The nuns
get the blame for indoctrinating me with a grim God that allows true happiness only after we
die.) As with many women, it took me years to grow up, develop a strong ego, and find the
magic balance of loving self and loving others. Not only did my room help me discover I'm an
introvert, it also helped me create roomth, an obsolete Old English word meaning "sufficient
space." Good word, roomth.
I named my room my studyo because this is where I study and dance. I read poems, and books
about birds and butterflies, stars and trees, how to grow pomegranates and when to harvest
runner beans. A few mornings a week I unroll my mat and explore asana, chanting, breath and
mudra. Some evenings I unwind onto my back and catch up with my breath, or sprawl on the rug
and read. Sometimes I just need to be on the floor, as when after the birth of our son, my milk
came in and I buried my face in our three-flight walk-up's carpeted floor. I cherish a floor of my
own as much as a roof, windows, walls, and a door that I can close.
In yoga, we work toward spaciousness in body, mind and heart and the consciousness that we are
everything and that within each of us shines a sorrowless light. Creating room for release and
movement, awareness and emptiness, we observe thoughts and feelings along with pain and
delight. Of the many ancestors of the modern word "room," most named a space, but a few
meant scope and opportunity, the way that we make room for ourselves in the house of the
world. Another root meant the hold of a ship, which protects our stores and treasures through
powerful seas to safe harbors. It's also true that our gifts carry us and often provide safe passage.
Over the years I've come to understand that we have a room of our own inside ourselves, in the
space we open within, through the process Keats called soul-making. Poems and phrases,
moments of intense feeling and perception, lessons learned, ideas, people I love, including
strangers, alive and dead, fill my inner space, which is also my memory palace, hut in the woods,
and mountain home. The walls are porous and protean.
My studyo's energy field extends to our garden, which we cultivate for bees and hummers as
well as humans, with fresh water for birds. plants that nourish with food, beauty, color, scent,
butterflies, and fruit. I feel deep-down pleasure feeding others as well as ourselves. My brother
jokes that we've created our own "temperate zone," where when we're not working our butts off,
we relax and feel free.
Down the road the teeming eco-system of the 50-acre ranch-turned-park also inspires awe and
astonishment, tranquility and inspiration. In the overgrown heart of the old ranch under ancient
oak trees, I tend a wild azalea overrun with blackberry switches. The oak grove does not belong
to me; it's a room in the commons, for everyone. My inner room overlaps with it, and I'm
grateful they're still growing.
For 25+ years I worked as a California Poet in the Schools in San Francisco and Sonoma County. I also served as Poet Laureate of Sonoma County, 2010 to 2012. My books include Snake Woman Poems and the chapbooks Fixer-Upper, Winter at Green Haven, Fruit of Life, and Sea Cradles. – Gwynn O'Gara. Find Gywnn here.

______________________________________________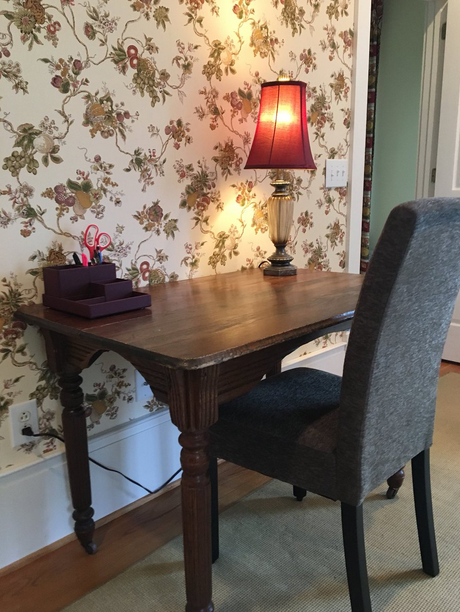 Would you like to donate for a chance to win a week's room of your own like this Rockvale "Power of Creativity" Gift of Fellowship in Tennessee or to gift it to another woman?  Find the donate-to-win button to the right. Each $10 or more gift of your donation expands our opportunities for each other. We will be drawing for our current gifts of fellowship this holiday season!