"Denouement" by Sarah Russell
The movers are here this morning.
Only things with yellow post-its,
I tell them. I find my long lost earring
behind the couch. Probably landed there
that night we couldn't wait to get upstairs.
I put it in my pocket, wonder
if I kept the other one.
I divide the sterling service for eight
into two sets of four –
Solomon solution of no use
to either of us for dinner parties. Outside,
the garden needs tending – stalks of gray and brown;
withered blossoms in a winter without snow.
I reach for the pruners, then put them back.
The roses are his now.
Tonight I fix a curry with stuff from the fridge,
and we make small talk – my new job, his vacation.
Afterwards, we clean up in choreography
perfected through twenty years of meals together.
I feign tiredness and ask if he'll be around
tomorrow before I leave.
No, there's an early meeting, he says
and turns back to TV.
In the guest room, the sheets smell stale.
The old cat comes and curls into the crook of my knees –
an exquisite kindness.
____________________
Share your response to this work, in any form, here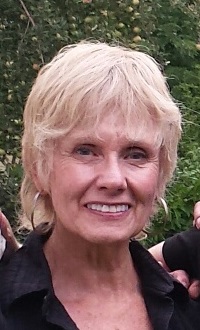 Sarah Russell Artist Statement:
Sarah Russell is in metaphor rehab after spending many years teaching, writing and editing
academic prose. Since retirement, she writes what she wants to, edits only for friends, and
almost never sets an alarm clock. Heaven! Her short stories, essays and poems have
appeared in anthologies and in print and online venues including Kentucky Review, Red River
Review, and Misfit Magazine among many others. See www.SarahRussellPoetry.com for more
of her work.