Deborah Feldman: Orlando Creative Nonfiction Judge
Sometimes when I read something I can hear the writer talking to me, and they sound very specific, very much themselves, and I can picture them in color and detail. This is when reading becomes exciting.—Deborah Feldman
AROHO is pleased to announce bestselling author Deborah Feldman as the finalist Creative Nonfiction judge for the Fall 2014 Orlando Prizes. In anticipation of the upcoming competition we asked Deborah the following questions:
AROHO: In Unorthodox you talk about what you (or your publisher) called the "scandalous rejection of your Hasidic roots." Do you have any advice for women who are trying to write honestly about their own lives and the people in them, knowing those people may read their work?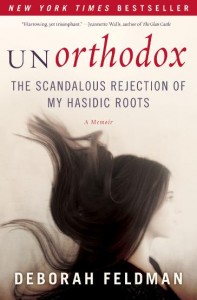 DEBORAH: The rejection mentioned in the title was very meta, very literal. Writing my memoir was an act of rejection in itself, and it ensured my rejection from the community as well. This was fine with me, because I felt that in order to lead an authentic and fulfilling life I had to be free from the judgment and censure of my past. I wonder sometimes what it's like for memoirists who are still very much in the lives they are writing about. It must be very difficult. I'm probably not qualified to give them any advice, except perhaps to tell them it might help if they show their work to the people mentioned in it before they publish. I let my mom read both books when they were still drafts. It helps if you can prepare the people in your life, and prepare yourself.
AROHO: Do you have any activities that jump-start your creativity when the well is running dry?
DEBORAH: I read poetry in foreign languages, mostly from the nineteenth and early-twentieth century. I dig out old classic novels from that time period as well. I find tremendous inspiration in the language of the past, and it serves as a contrast to my more contemporary voice. But there's also less danger of being influenced than if I were reading something more modern. It's harder to distinguish yourself from your peers. I'd like to tell some writers that – don't read your peers! It muddies the water.
AROHO: What is one resource you wish more women writers had or knew about?
DEBORAH: I don't call upon many resources. Coffee shops and libraries have always been kind to me. In Europe I discovered the socially ingrained respect people have for writers, and it certainly made my life more comfortable. But it's not always easy to pick up and go abroad, although I would recommend it. I've come across a few fellowship opportunities recently, that offer writers a chance to go away for a month, all expenses paid. I suppose I would encourage a serious writer to apply for as many of those as possible. Time and space away from stress and distraction is the number one necessity.
AROHO: Is there anything you hope to discover in the Orlando nonfiction submissions?
DEBORAH: I'm looking forward to discovering unique and fully-developed voices. Sometimes when I read something I can hear the writer talking to me, and they sound very specific, very much themselves, and I can picture them in color and detail. This is when reading becomes exciting. Writers who can make you hear them and see them have a special gift.

DEBORAH FELDMAN was born and raised in the Hasidic community of Williamsburg in Brooklyn, New York. She is the author of the New York Times Bestselling memoir, Unorthodox: The Scandalous Rejection of My Hasidic Roots (Simon and Schuster), and Exodus, a follow-up memoir (Penguin) that traces her new life as an independent young woman and single mother, and her search for an authentic and personal Jewish identity. Deborah attended Sarah Lawrence College and lives in New England with her son. You can learn more about Deborah and her work at https://www.deborahfeldman.com/.
The deadline for submitting to the Fall Orlando Prizes is July 31st, 2014.