CJ Hauser Awarded Spring 2010 Orlando Flash Fiction Prize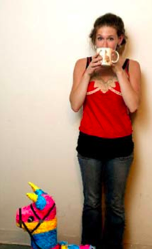 CJ HAUSER is a spinner of yarns and writer of fiction who lives in Brooklyn, New York. She has published fiction in The Brooklyn Review and the L magazine and believes New York is the best possible place to grow a story. She is currently at work on a novel about fishing towns, taxidermy, and love.
Read CJ's award winning flash fiction story, "Buoys," here.