In celebration of 20 Years of Creative Women and in the spirit of the 100th anniversary of the 19th amendment for women's rights, we begin by inviting you to a year-long pageant of supporting and elevating each other's voices.
Alongside our new monthly series sharing excerpts from the upcoming
Waves anthology, together we are sustaining open-access submissions this year for any woman who would like to share her story, her creative work, her room of her own.
Enjoy contributions from women in your community and find your own
invitation below.
_____________________________________________________________________
Virginia Danz, "The Awakening"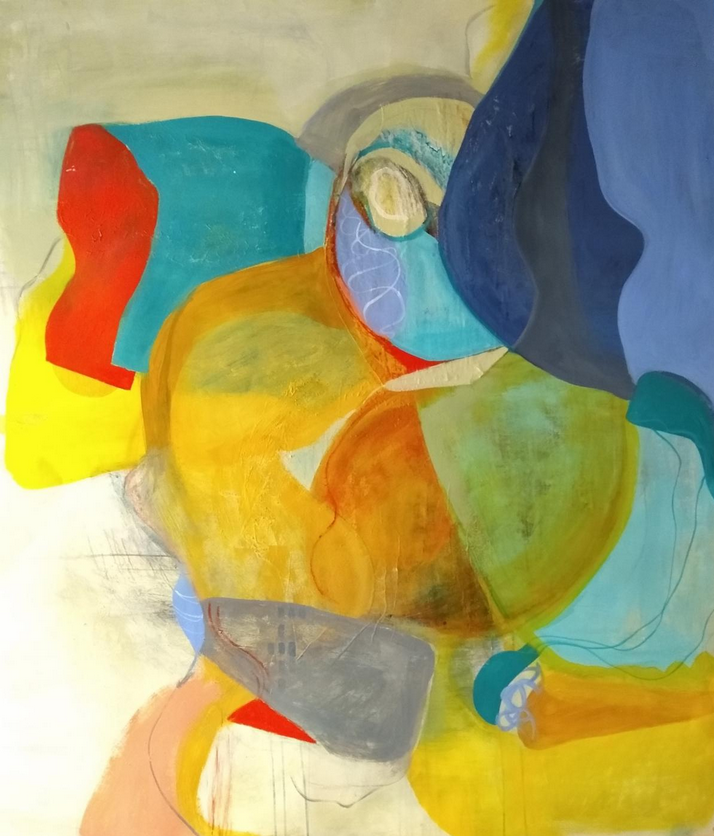 .
Ten years ago after a rewarding career as a mental health counselor, I decided to take a chance on a career as a painter. The #MeToo movement had a profound effect on me, as did turning 50 and losing my father last year. I feel like I've awakened from a long nap, shrugging off the patriarchy and becoming my own mentor. I am now creating the most authentic, truly satisfying work of my life. I'm thrilled to find a community space online that honors and lifts up women's voices. My work can be found at www.gingerdanz.com and @gingerdanzart on instagram. – Virginia Danz

_____________________________________________________________________
Rebecca Harvey, "Bone"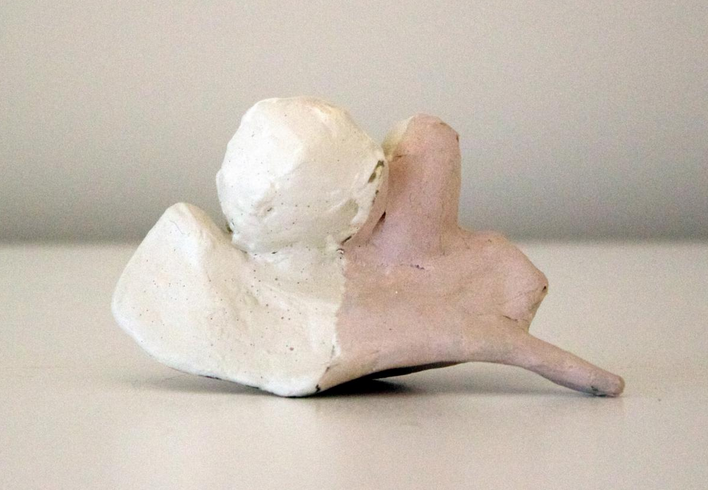 Raised to be a good girl in the Midwest, I greatly failed my parents by climbing trees and playing in the mud. A further disappointment when I dropped out of Father's law school alma mater to pursue art. Ended up ok, I learned to be a room of my own. – Rebecca Harvey
_____________________________________________________________________
Nazli Karabiyikoglu

, "Throwing Off the Blanket"
How many types of going are there? Walking away, leaving for good, acts of escaping are hung on which part of going?
What is the purpose of going and why do we hide behind the term leaving away
when we are overwhelmed with life? Where does humanity stand between
the inability to go, although desiring, and cutting loose through the backstitch of going and
leaving? I've been thinking about these questions for years and all of them unravel quite
different questions. In order to get out of the question labyrinth in which I'm lost, I have to
go once more. I think I like questions mostly because of that.
My travels began in the back of the yellow car, with the mark of my pink plaid pillow
on my face. The wind blowing through the car's window, the sun that made my eyes squint, the
dizziness of the child-me who just woke up turned the back seat into a one-person, magical
brougham. The scenery, trees, steppes, and forests flowing constantly became the place of my
various imaginary adventures throughout the travel. I didn't like returning home. On the road,
there was an eccentric aura that captivated me. During my late childhood, I was discovering a
different kind of journey: books!
Books like Ace Square Series, The Three Musketeers, Oliver Twist, and The Railway Children
offered me the chances of possible secondary, tertiary places. I knew that I couldn't
find a ship to become stranded on a deserted island or I couldn't find a horse to pass the forests
I had to get over. So I established "The Cinema of
Going" for myself. I memorized all adventures and characters along with their genealogies, and after everyone slept,
I got inside the oddly-shaped blanket and went there. What an imagination!
I wandered around the countries of people whom I made to speak, I created a knot and I didn't sleep before I untied
the knot with my dear friend (whomever it was at that moment).
My mother yelled from next door, "All right already, do not talk to yourself, sleep!"
Now, when I look back – with the occasion of this writing – I highly envy that state of mine.
I was like in a Miyazaki movie.
While living in the naivety, the tree of revolt which was watered by growing sprouted
in me. I acted like a daredevil in the adventures, and I started to do everything to fall in the
middle of more earnest stories. A drastic notion of going started to take shape in me as my
perception changed, as I went out in public and as I got to know rage and authority. I saw that
my childhood which moved from the upcountry and coastal town to Istanbul was disappearing,
and I insistently wanted to escape from every place that restrained me with walls. My big plan
was to escape from Istanbul and to arrive at the Indochinese Peninsula via a big ship (it was a
detailed plan; I was going to sleep at the warehouse and feed myself by cleaning the deck). But
I had to put my little plan into action first and I had to discover Istanbul. So, a new period began
in my life: playing hooky from school!
I was so fearless that I did many things! Though I couldn't get on that passenger ship, I
went to magical streets, I discovered strange shops, and I tried to go as far as I could during my
limited time. (Poor mom and dad!) I had a talent for catching the absenteeism papers sent to
my house, I only wished there was not an obstacle to go. The escape fed me; at the moment
when my personal, weak revolt appeared, I had to run hard by jumping over the guard wall.
Why did I tell this? I hope that I can express the meaning of going better this way.
Because, as I got older, the angry revolt evolved, it changed the anger into curiosity by
protecting its core. I found a new way of going then: travelling! I started to spend money on
passport, visa, flight tickets, etc., as I earned money. I was not escaping anymore, there were
countries I had to see, people I had to know, but moreover, events I had to witness. My family
got used to this and my mother didn't take the suitcase from the door. She knew that I would go again soon.
The atlas was always open. I primarily marked the places where art and literature were
born and arose the ancient civilizations and the cities through which I could get closer to the
ancients. I set a course for myself and I always fell into the reverie that Evliya Celebi had seen:
"Travelling, oh envoy of God!"
I distilled my travels in time. My principle was to chase an artist and discover the places
they lived in the countries, cities, I went. I became intensely emotional, I touched the parquet
on which Pushkin lay in blood, I got close to the table on which
The Brothers Karamazov was written, and with Victor Hugo, I watched our poor hunchback being tied and stoned in front of
Notre Dame. The shape of going completely changed for me. I took the cinema out from the
blanket.
As my travels which were fed by quests, identity seeking, and taking shelter increased,
I started to question the notion of home. When I was grumbling Cavafy's poem,
"The City,"  in my mind, when I was thinking that the sun set differently and wind blew with different scents in
all cities, language mesmerized me more. Road brought me language and I felt gratitude.
Let alone all of my travels, there is a long travel that tore me down. When I saw Kars, I
experienced a great excitement more than when I saw the masterpieces in Europe. I felt dizzy
at Ani Ruins, as I proceeded in the ruins, I looked at the two broken piers of Silk Road Bridge
on two sides. Ghosts were behind me, verdant oasis of Armenia was in front of me… I threw
the blanket off that day. The bridge rapidly renewed itself, the caravans started to come towards
me, the churches started to swarm with people, and steams started to rise from the baths. The
faces of people were crystal clear and Gagik II entered the city through the Lion Gate. The
exhausted land on which there was no noise to be heard offered me all of its colors with sounds.
A slant-eyed lady wearing scarlet caftan approached me and handed over the halter to me. I
rode the unimaginably beautiful horse.
There was the road in front of me and my blanket that I carried as a cloak on my back,
and I rode my horse everywhere I went.
I am a Turkish author, now full-time resident in Georgia, who recently escaped from the political, cultural, and gender oppression in Turkey. She helped create the #MeToo movement within the Turkish publishing industry, from which she was then excommunicated. – Nazli Karabiyikoglu
_____________________________________________________________________
Would you like to submit your own creative origin story? Do you have a room of your own? Find the submit buttons in the sidebar and on the home page.