2015 Retreat & Waves Discussion Series: Writing Against the Current
August 10-16, Ghost Ranch, New Mexico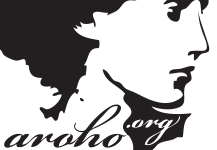 "I'm fundamentally, I think, an outsider. I do my best work and feel most braced with my back to the wall. It's an odd feeling, though, writing against the current: difficult entirely to disregard the current. Yet of course I shall." —From Virginia Woolf's Diary, November 22, 1938
On May 1, 2014, AROHO will begin accepting applications for proposals to contribute to the retreat. In addition to presenting in The Waves Discussion Series, women may propose to contribute to the program as consultants, Studio Hour leaders, fellows or artists in residence.
For all of the details about proposals and the application process itself, visit our Retreat page.  Read AROHO's Call for Contributions here.
The 2015 Retreat marks the inauguration of The Waves Discussion Series—a provocative dialogue with the entire assembly of women writers and artists, named for Virginia Woolf's most experimental novel—and AROHO's Fellow of Distinction, an honor conferred upon a woman whose work is at the forefront of engaging women in a new kind of story. AROHO's 2015 Fellow of Distinction is Maxine Hong Kingston, a woman who has spent her life "writing against the current," pushing the limits and redefining the idea of the "legend" for herself and for all women.  We are honored to engage in a dialogue with her about issues that touch us all.
Maxine Hong Kingston will anchor the 2015 Waves Discussion Series, constructed each day from participants' unique responses to the theme of "Writing Against the Current."  Virginia Woolf's Orlando and Hong Kingston's Woman Warrior, powerful examples of this theme, will be used as springboard texts to inspire contemporary reflections on culture and genre conventions as well as innovative publication and promotional strategies. Exceptional contributions to the Series will be made available in video form and/or selected for publication in a book to be produced by Red Hen Press.
And so the discussion begins.
Is it possible to kickstart miracles?

Time to live a long life, and many lives.

Time to write all you have to say.

Space for community and family and children and art.

Publication and fame and money.

The woman novelist, said Virginia Woolf, would come into being if she could but  rise above complaint and protest.  How can we do that?  Given our world, do we even want to do that?

Fellow of Distinction, Maxine Hong Kingston