"Bonfire Girls" by Roxanna Bennett
My abortion your whatever, iceberg.
Sometimes boys are ways to mark
a space with caution tape, identical parks,
collapsible homes, your bluebird
this ghost word. We're adrift in an ocean
of fuck. Your orbit slow motion,
I am weeks without weather.
You storm soaked, late, heavy, never
gaining traction. Stuck, stuck, but sometimes
hurricanes in mason jars. Blame Mercury
for summer's dark porches, moth-eaten memory.
Once kissed but all signs point to planets aligned
against these floes, moments, the hidden unloved parts.
Bonfire girls with melted boots and fragile hearts.
____________________
Share your response to this work, in any form, here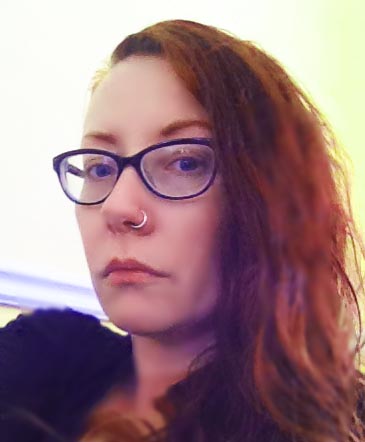 Roxanna Bennett's Artist Statement: Roxanna Bennett is the author of The Uncertainty Principle: Poems (Tightrope Books, 2014) and senior editor for Matrix Magazine. Her work has appeared in Slice Magazine, The Dalhousie Review, Existere, Arc, Vallum, CV2, Cosmonauts Avenue, Qwerty, carte blanche, and many other publications. She is a bisexual writer living with multiple disabilities in Ontario, Canada.