Be an AROHO Booth Host at AWP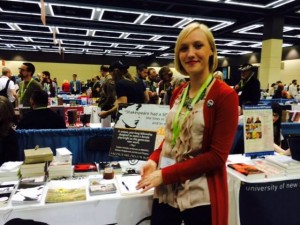 Do you want to get to know other AROHO women and introduce new women to the possibility and opportunity of AROHO? Support AROHO staff by joining our effort to welcome, get to know, and spread the word to new faces at the AWP Bookfair! Volunteer hosts are welcome to bring their own books to sell/sign during their shifts and may sign up for as many time slots as they like. (One hour slots are scheduled between 9 and 5 on Thursday, Friday, and Saturday.) Email Carolyn at awp2015@aroho.org if you're interested.
…or simply stop by booth #1414!
There are over 13,000 women on this email list, but we've only met a small fraction of you! Please stop by and change that. Meet our fabulous signers and table hosts, purchase raffle tickets for our "7 Gifts" drawings (one gift being the final GO-Retreat Pass to the 2015 Retreat), and be at home with us for a bit amidst the frenzy of the conference. We hope to see you!
Stay tuned for our exciting lineup of author signings!