"Aunt Jemima, Eleanor Bumpers, and Sandra Bland" by Breena Clarke
"Re/Membering Aunt Jemima: A Menstrual Show" by Breena Clarke and Glenda Dickerson[1] 
Frankly, I never thought I'd be updating "Re/Membering Aunt Jemima: A Menstrual Show" or even seriously reconsidering it. I had not read it in at least ten years if not longer. Written more than twenty-five years ago, the play contains topical references that I thought might seem stale to me. In pondering what to explore at the AROHO (A Room Of Her Own) Retreat 2015 for the WAVES discussions, this work just popped into my head. "Writing Against The Current", our discussion theme, seemed to fit. I'd always felt that Glenda Dickerson and I had, in writing "Aunt Jemima: A Menstrual Show," sort of flung ourselves at notions of racial propriety.  We had not wanted to write a domestic drama full of polite insistence that black people are worthy of Western civilization. We had wanted to confront the popular culture of negative images of Black Women in messy confrontational language.
My sister and fellow workshop leader, Cheryl Clarke, agreed. "Time to look at that play again," she said.
"Only the black woman can say 'when and where I enter, in the quiet, undisputed dignity of my womanhood, without violence and without suing or special patronage, then and there the whole Negro race enters with me.'"  – Anna Julia Cooper [2]

Anna Julia Cooper
When Anna Julia Cooper spoke those inflammatory though seemingly mild words in 1886 in one of her best known speeches she was just two years out of Oberlin College and not yet thirty years old.The exclusively male, black clergy of the Protestant Episcopal Chruch she spoke before must have nearly fallen out at her audacity, as well as, been persuaded by her ladylike demeanor. The fin de siècle organizations that came to be called The Black Women's Club movement had guiding principles which held that if the Black Woman could uphold dictates of proper behavior, maintain her domestic sphere and educate her children, she would be the best instrument to deliver her people into mainstream American life, i.e. freedom and full access. 
But it was exactly Cooper's narrowly defined concept of female propriety that Aunt Jemima: A Menstrual Show was meant to take on.
 Menstrual/True Woman 1:  Ladies, shall we step next door and sample Aunt Jemima's temptalatin' comestibles
Menstrual/Ann Julia: Compositively-trary not! I would rather leave public life. 
Menstrual/True Woman 2: When Aunt Jemima laid eyes on the speechifyer seemed like to her it was the little girl who risqued all to earn to read.
Aunt Jemima:  Anna, Anna child, is that you?
Menstrual/Anna Julia:  Oh, Mammy, all through the darkest period of the colored woman's oppression in this country, a period full of heroic struggle, a struggle against fearful and overwhelming odds that often ended in a horrible death, I have prayed to once again see your greasy face.
Menstrual:  And so Aunt Jemima is reunited with her daughter, Anna Julia, who was a founding member of the National Association of Colored Women and a proponent of the tenets of the cult of true womanhood.
         The reality was that the opportunity for the Black/Colored woman to care for herself, her household, to raise and educate her children was, despite her determination and fortitude, a nearly unattainable goal in the post-Civil War/Early 20th century era. State sanctioned obstacles to full access and opportunity were and still are designed to thwart her efforts.  
I wrote Re/Membering Aunt Jemima: A Menstrual Show with the late Glenda Dickerson (1945 – 2012) in the very early 1990's. Glenda Dickerson and I seized on the iconography of Aunt Jemima, the oldest and most well-known advertising symbol in American material culture because she embodied all of the elements that we'd been taught to despise. We decided also to use a disreputable form of popular entertainment – the Minstrel Show, an enduring theatrical invention of Northern imitators of Southern plantation performers – as our theatrical stylistic framework.  Minstrelsy, developed in the 19th century and organized as a three-part variety show, was a style based solely on exploiting gross racial stereotypes for laughs. We chose this convention as the basis for our look at Aunt Jemima.  For a fuller discussion of the Minstrel Show, see African American Theater: A Cultural Companion by Glenda Dickerson. http://bit.ly/1Mzwk7k
"In the US, the minstrel shows began with working-class white men dressing up as plantation slaves. White performers blackened their faces with burnt cork or greasepaint and performed songs and skits that mocked enslaved Africans." [3]                                               
This quote is from our playwright's notes that accompanied Aunt Jemima: A Menstrual Show, as published in "Colored Contradictions,"[4] edited by Elam and Alexander:
Contemporary Black women are all but invisible in a popular culture and society which fears and loathes us unless we can be fitted comfortably into a recognizable stereotype: the Mammy, the Sapphire, the Jezebel, the Tragic Mulatta. The playwrights chose to use the minstrel format and its most potent device – innovative word play such as malapropisms, puns, conundrums, and double entendre – in an attempt to write Black female identity into existence on the world stage. Thus, this postmodern Menstrual Show is created to provide a "place" or context for the latter-day African-American woman performer.
One of the chief intentions in writing the play was also to create a critical number of challenging character roles for African American women performers. Eleanor Bumpurs, a Black woman murdered by the police in 1984 became, in our play, Aunt Jemima's doppleganger.  Tawanna Brawley, Anita Hill, Anna Julia Cooper and others became her daughters.


Eleanor Bumpurs     Aunt Jemima, advertising icon
The climax of Re/Membering Aunt Jemima: A Menstrual Show is the death of Aunt Jemima in her Eleanor Bumpurs persona at the hands of a policeman. Eleanor Bumpurs, a mentally ill, arthritic and elderly African American woman was shot and killed on October 29, 1984 by New York City policeman, Stephen Sullivan. The police were present that day to enforce a city ordered eviction of Bumpurs from her apartment in the Bronx for failure to pay four months past due on her monthly rent of $98.65. Housing authority workers told police that Bumpurs was emotionally disturbed, had threatened to throw boiling lye and was using a knife to resist eviction. When Bumpurs refused to open the door, police broke in. In the struggle to subdue her, one officer shot Bumpurs twice with a 12-gauge shotgun.
Glenda Dickerson and I started writing Re/Membering Aunt Jemima: A Menstrual Show by beginning to ponder the imagistic details of the Bumpurs case. Why hadn't this Sullivan guy – the cop who shot her – seen her as we saw her, as her family saw her and as the man across the hall who said he was looking out his peephole and saw her naked body in the hallway for a long time saw her? No respect — no respect for the big, black body naked and dead and on display. Hours later they covered her with a sheet before taking her away to the morgue, but left part of her blasted finger on the floor for her daughter to find.    
Menstrual:  After her long faithful years of service, the food inspectors came to evict Aunt Jemima from the pancake box.
Menstrual: She was sixty-six years old and weighed three hundred pounds. She had arthritis, high blood pressure and diabetes.
Menstrual:  The cops said she shouted that she would kill anybody who tried to evict her.
Aunt Jemima (singing)
IT'S GODDAMN SHAME
WHAT THEY DO TO ME
WHAT WILL IT TAKE
TO SET ME FREE?
GODDAMN, GODDAMN!
IT'S A GODDAMN SHAME
WHAT THEY DO TO ME
WHAT WILL IT TAKE
TO SET ME FREE
Aunt Jemima: Ah'm a free Black woman. Here is my free papers dat ah carries in my shoe.
Menstrual: They said she charged at them with a ten-inch knife. Her right hand was blown away by the first shot. She looked surprised.
Menstrual: The second shot blew a hole in her chest. She fell back into the kitchen and bled profusely.
These lines became the nucleus of the play. These were the facts of the case as reported in the papers:
The cops said she shouted
She would kill anybody who tried to evict her.
They said she charged at them with a ten-inch knife.
Her right hand was blown away
That was by the first shot.
She looked surprised.
The second shot blew a hole
in her chest.
She fell back into the kitchen
She bled profusely.
I continue to be affected by the facts of this killing. Glenda Dickerson and I vowed to always remember this woman and her death. Why? Part of it was a vow to myself never to be the kind of daughter who let her mother fall into the slurry Eleanor Bumpurs was mired in. Partly because I know, as surely as I know my own name, that racism killed her. Seeing the experiences of Black women through this lens meant looking at complex issues of color, self-esteem, sexual violence and parental abuse. In mounting Re/Membering Aunt Jemima: A Menstrual Show Glenda and I asked questions about the notion of propriety. What should and shouldn't be said on a stage? Certainly talking about menstruation was, and still, is a no-no. Talking about Aunt Jemima, nappy hair and miscegenation? We seemed to be spoiling for a fight.  And talking about women's anger and frustration is never welcomed.
Tiny Desiree: At least I ain't like Sapphire. I can't stand that evil, treacherous, bitchy, stubborn thing. I ain't nothin' like Sapphire. I is the Anita-thisis of Sapphire
Sapphire: I ain't none of those things folks call me. I just ain't afraid to express my bitterness, anger, and rage about my lot.
Sandra Bland, the young African American woman who recently was arrested by police in Texas and later found dead in a jail cell, clearly is a daughter of Aunt Jemima, too. I understand her to have been oppressed by a twenty-first century version of The Sapphire/Angry Black Woman stereotype. She was not polite enough or careful enough to put out her cigarette and act deferential to the State Trooper who profiled her and pulled her over. He needed Aunt Jemima's smiling face and Sandra Bland wasn't giving it. A new, revised and updated Re/Membering Aunt Jemima: A Menstrual Show must speak to roadside jeopardy at the hands of the police and should include the many disappeared Native American women traveling and being lost along the highways in Canada and the mind-boggling tortures of Dalit women that I've only, in recent years, become aware of.  Aunt Jemima's endangered daughters are everywhere around the globe.  
It's Aunt Jemima's damnable grin. We're not supposed to ever show anger and dismay. Don't you dare say about Sandra Bland that, "She shouldn't have been so sassy – so angry." Sandra Bland had an ordinary brown-skinned face like my sisters and me. I'm nervous for my sisters. Will they scowl at some cop and raise his ire?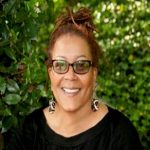 Sandra Bland                         Breena Clarke
Notion confirmed: They don't see you as you see yourself, as you feel yourself to be. If the other tells you your face is angrily fixed, then it will not matter how you feel inside. We've worn masks for so long and they've been trained to not look. I'm beginning to think our actual faces are unrecognizable to the mainstream lookers. They know us by some disreputable ideas of animal/wildness/non-humanity – like the scowl of some fierce beast. It is the photo they will always choose to illustrate you – your face caught in a fierce, unattractive grimace, an expression that is emblematic of what they imagine is your justifiably deep rage. Or by that damnable pancake grin of Aunt Jemima's.
 "Pancakes from the good, ole days!"
And Aunt Jemima with her permanently fixed, broad, ingratiating grin is still a most comforting and enduring image of Black women for many whites. In Re/Membering Aunt Jemima: A Menstrual Show, Glenda and I endeavored to actually disassemble the iconic image and restore her in a more complex collage of ideas/attributes.
WE ARE HERE TO PERFORM AN ACT OF MAGIC.
WE ARE HERE TO PERFORM AN ACT OF MAGIC.
WE'RE GOING TO WEAR THE MASK OF THE JOLLY MAMMY
PITCH OURSELVES OFF THE PANCAKE BOX
WERE GOING TO FIND OURSELVES,
LOVE OURSELVES
IN THE BIG, FAT MAMMY OF LIES.
OH, MAMMY, DON'T YOU KNOW
WE'LL RESCUE YOU WITH MAGIC
DON'T YOU KNOW WE'LL SALVAGE YOUR BAD NAME?
WHO DO WE HATE?
LET'S PULL OURSELVES TOGETHER
WHY DO WE HATE?
LET'S GIVE IT ONE MORE TRY
WE'RE GOING TO PULL OURSELVES TOGETHER
AND NOT HATE OURSELVES
PULL OURSELVES TOGETHER
SO WE'LL FEEL ALRIGHT
WE ARE HERE TO PERFORM AN ACT OF MAGIC
AN ACT OF MAGIC TO PERFORM
What makes the Aunt Jemima stereotype so hateful? That is one of the central questions we posed with our play. We decided that the bravest thing to do would be to take on the stereotype, tear it apart, examine it and put her back together as the archetype she originally was. In doing so, we proposed to rescue our foremothers from the stereotyping that makes us face our mirrors with fear. In celebrating the character and person of Aunt Jemima we did not condone the stereotype as she had been used to oppress African-American women; rather we acknowledged the shame we felt at the sight of her, at the sound of her name. We acknowledged her as the symbol and the repository of the shame, disease and self-hatred from which we wished to free ourselves.
Production history: Re/Membering Aunt Jemima: A Menstrual Show was first performed as a work-in-progress in January, 1992 at the Lorraine Hansberry Theatre in San Francisco, California. It has been performed as a staged reading at Newark Symphony Hall, Moe's Restaurant/Cabaret, and the National Black Arts Festival. It premiered at the National Black Arts Festival/Spelman College in Atlanta on 3–6 August 1994. Directed by Glenda Dickerson, the cast included Sandra Bowie, Stephanie Berry, Gwendolyn Nelson-Fleming and Gwendolyn Roberts-Frost. An excerpted version was published in Women and Performance Vol. 6, No. 1, 1993.    (2005-06-28). Contemporary Plays by Women of Color: An Anthology (p. 50). Taylor and Francis. Kindle Edition.
____________________
[1] Re/Membering Aunt Jemima: A Menstrual Show is included in the anthology, "Contemporary Play By Women of Color: An Anthology, edited by Kathy Perkins and Roberta Uno, 1993 and "Colored Contradictions: An Anthology of Contemporary African-American Plays," edited by Harry J. Elam and Robert Alexander, 1996
 [2]   "Womanhood: A Vital Element in the Regeneration and Progress of a Race," later published as the first chapter of Cooper's Voice from the South 
[3] African American Theater: A Cultural Companion by Glenda Dickerson, 2008
[4] Colored Contradictions: An Anthology of Contemporary African-American Plays, edited by Harry J. Elam Jr. and Robert Alexander, 1996.
____________________
Share your response to this work, in any form, here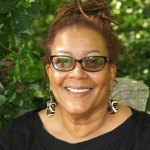 Breena Clarke Artist Statement: 
Breena Clarke, currently a resident of Jersey City, has written three historical novels. She has recently published Angels Make Their Hope Here, set in an imagined mixed-race community in 19th century New Jersey. Breena's debut novel, River, Cross My Heart (1999) was an Oprah Book Club selection and her critically reviewed second novel, Stand The Storm, set in mid-19th century Washington, D.C., was chosen by the Washington Post Book Review as one of 100 best for 2008. Breena Clarke is a member of the fiction faculty of The Stonecoast MFA Creative Writing program at The University of Southern Maine, and is an organizer of The Hobart Book Village Festival of Women Writers.
Breena blogs about the writing, editing and promoting process at: https://www.tumblr.com/blog/angelsmaketheirhopehere and www.BreenaClarke.com. Prior to publishing her novels, Breena administered the Editorial Diversity Program at Time Warner Inc. in New York City, where she mentored a number of young journalists and writers.