Ashley Kunsa Awarded Spring 2011 Orlando Flash Fiction Prize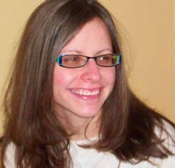 ASHLEY KUNSA is a native of the Pittsburgh, Pennsylvania, area, where she lives with her husband Brad, who is also a fiction writer, and their two cats. Her critical essays on Cormac McCarthy and Junot Díaz have been published in or are forthcoming from the Journal of Modern Literature and Critique: Studies in Contemporary Fiction. In 2009 Ashley was a finalist in Narrative's 30 Below contest. She completed her MFA at Penn State University in 2009 and is pursuing a PhD in English literature at Duquesne University. Currently in the trenches of coursework, teaching, and scholarly writing, she plans to devote a good part of the summer to her short fiction and novel-in-progress.
Ashley's winning flash fiction story, "A Woman's Glory," was published in Issue No. 10 of the Los Angeles Review.