Annie Dawid Awarded Fall 2012 Orlando Flash Fiction Prize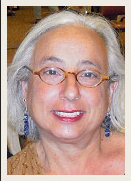 ANNIE DAWID runs a writer/artist retreat in South-Central Colorado at bloomsburywest.com. Her third book, AND DARKNESS WAS UNDER HIS FEET: STORIES OF A FAMILY, won the Litchfield Review Short Fiction Award and was published in 2009. Her second book, LILY IN THE DESERT, was published in 2001 by the Carnegie-Mellon University Press Series in Short Fiction. Her first book, a novel, YORK FERRY, went into a second printing from Cane Hill Press of NYC. In 2007, Glimmer Train Stories published "The Closer You Were, the Less You Knew," a story of Sept. 11, after it won a prize in the Fiction Open. She will be teaching a fiction workshop this summer at the Taos Summer Writers Conference.
Her winning Flash Fiction entry, "Nitza Kosher Pizza," was published in Issue No. 13 of the Los Angeles Review.