"Angels and Saints" by Chloe DeFilippis
She kissed her hand then placed it on the foot of a saint. She lit a votive candle. I did the same. On either side of St. Michael's Church were tall, plaster statues of Jesus, Mary, and the saints. As a little girl, I thought they'd come to life. I thought this trick—kissing the foot, lighting the candle—meant what my mother told me: If you pray to a saint, they'll listen. I thought this was especially true if the church was empty. We didn't attend mass, but after CCD, my mother whispered, "Let's sneak in for a second." In unison, we dipped our fingers in holy water, crossed ourselves, and tiptoed past the pews to our saints. During my early childhood, those somber-faced beings seemed to belong to us, as if our secret prayers solidified a sacred bond, one that was strong enough to make my mother tear as she rose from her knees. I believed in angels more than I believed in God then. I believed they were in the speckles of sunlight that shone through the stained glass windows. And I believed they could tell me what was wrong, what the saints were saying that made my mother cry.
____________________
Share your response to this work, in any form, here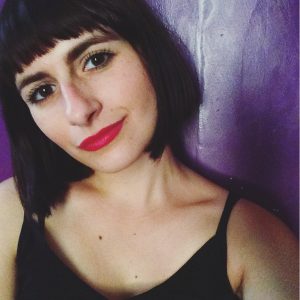 Chloe DeFilippis Artist Statement: Chloe DeFilippis was born and raised in Bayonne, a tiny blue-collar peninsula in New Jersey, where she currently resides. She graduated from New Jersey City University in January 2015 with a Bachelor's degree in English/Creative Writing, having completed an honors thesis in memoir. Chloe uses her perspective as the youngest in a six-person, working-class family of Italian- and Polish-American heritage to inform her work. Her poetry and flash nonfiction have been published in the journal Voices in Italian Americana as well as in the e-anthology Olive Grrrls. She was the 2015 recipient of the Walter Glospie Academy of American Poets Prize and is currently the proud moderator of her 100-word writing group, which has been together for two years. When she's not writing, Chloe is tending to her small vegetable garden.