Alyssa Cooper Awarded Fall 2009 Flash Fiction Orlando Prize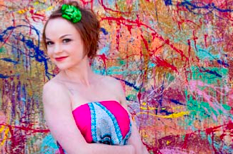 ALYSSA COOPER began her writing career while studying art history at the University of Texas at Dallas. Her fascination with writing as a medium of art—meant to depict—soon took focus, and she graduated with a B.A. in Creative Writing. Ms. Cooper maintains that it is her love for visual and performance art that provides the creative lens for her written works, and she finds inspiration while dancing or strolling art galleries. "The Way Back Home" was the recipient of the 2006 Gulf Coast of Creative Writing Teachers Association Undergraduate Fiction Prize. Ms. Cooper's stories have been featured in An Honest Lie: Volume I and Carve Magazine, where she currently serves as a reader and editor. She has recently completed a collection of first person narratives that explore the boundaries of the female norm and the inner trappings of self-perception, entitled A Whore Like Me. Ms. Cooper currently resides in Dallas and is researching graduate school options to further attend to the art of writing.
Read Alyssa's winning flash fiction story, "Tin Man Tick-Tock," here.