"Against My Own Current; Out in Plain Air" by Lisa Lutwyche
I haven't worn a swimsuit in over fourteen years. I've walked on a beach or two, sat by swimming pools watching other people swim, but always wearing shorts and a tank top myself. The only people to see my torso uncovered, or barely covered, have been medical personnel, my husband, and my brave, then fifteen year old daughter, right after my mastectomy.
Mastectomy. There's that word, the word that looks so clinical and simple, so final and unemotional. Most of the time, I'm able to forget about it. I mean, it's not painful, although it's often actively uncomfortable. I had a complicated reconstruction. I thought age 46 was too young for a flat amputation. Reconstructed or not, though, it's not really all that nice. I had more surgeries after the initial reconstruction, which didn't help; more scars, extra flesh under my arm because I had living tissue fished under my armpit.
My right "breast" is referred to as a "result" by the surgeons and doctors who still look at it.
I usually hide it, even from myself. Until AROHO 2015, and Shauna Osborn's "Carved Skin" workshop.
It wasn't water that got me to open up and show myself. It was the desert.
In Shauna's group, we were all able to "bare" ourselves, bodies, stories, and souls in a way that was pure AROHO, a safe, spiritual experience for all of us. I was frightened to see the photographs of myself, standing in the sunlight, stripped to the hips, but I finally looked at them.
They're beautiful.
Even before Shauna transforms them with text, even before they become a piece of art, those photos have shown me something I've needed to know for a decade and a half; something my sweet husband tries to make me believe – I'm still me, and I have more beauty left to show than I'd have dared to dream. Dreaming is what we do at AROHO, a place made safe by a group of women daring to dream together.
____________________
Share your response to this work, in any form, here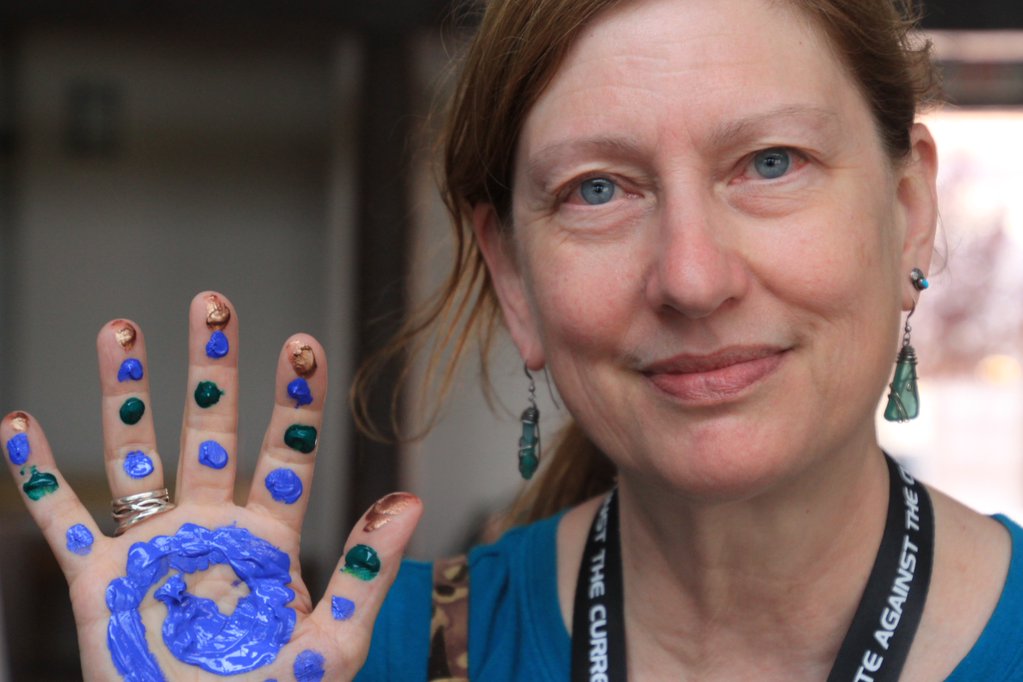 Lisa Lutwyche Artist Statement: 
Lisa Lutwyche received her MFA in creative writing from Goddard College in 2013. Poet, artist, produced playwright, writer, and actor, she has been anthologized and published across the US and in the UK since the1990s, including: Mad Poets Review, Minerva Rising, Tamafyr Review, Falklands War Poetry, Sparrow's Trill, In the Questions – Poetry by and about Strong Women, cancer poetry project 2, and Fiction Vortex. Lisa was nominated for a Pushcart Prize for her poetry in 2000 and again in 2015. Her full-length book of poetry, A Difficult Animal, is due in November 2016 from Saddle Road Press. Her background includes a BFA in painting and a BA in art history; twenty-two years in corporate architectural design; teaching art to special needs adults; working as an optician while in graduate school. She is currently an adjunct Assistant Professor of English at Cecil College in Maryland and at Delaware County Community College in Pennsylvania.