"A New Theology" by Sheila Bender
For Seth Bender, 1975-2000
Who has no likeness of a body and has no body
is my son, now five months dead
but in my dreams, my dreams he brings the peace in gardens.
And I see him in his smile and he is hardy
in the rolled up sleeves of his new shirt, well-fed
when he has no likeness of a body and has no body.
I see him next to me in conversation at a party
and I believe that he is fine because this is what he said,
because in my dreams, my dreams I sit with him in gardens.
The nights he comes, the cats moan long and sorry.
I believe they see his spirit entering my head,
he who has no likeness of a body and has no body.
In my life, accepting death comes slowly,
but the midwifery of sadness and of shock bleeds
afterbirth, dreams that bring the peace in gardens.
I know that he is far and he is here and he is holy.
Under sun, I feel the energy it takes to come away from God
who has no likeness of a body and has no body
who is in my dreams, the dreams that bring me gardens.
____________________
Share your response to this work, in any form, here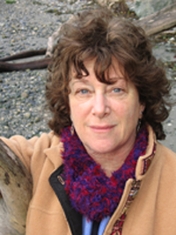 Sheila Bender Artist Statement:
Sheila Bender founded WritingItReal.com in 2002 and has been helping writers make
their writing dreams come true through instructional articles, online workshops and
telephone consults for the last 14 years. Before she was proficient with the Internet,
Sheila published with Writer's Digest Books, Warner Books, McGraw Hill, and Imago
Press, among several other presses. Now, she is venturing into self-publishing new
instructional books and re-issuing some of her earlier books. She finds writing inspiration
in examining her relationships with others and watching the waters of Discovery Bay,
where she lives in Western Washington. After losing her 25-year-old son in a
snowboarding accident, she survived the pain by writing poetry. Her memoir, A New
Theology: Turning to Poetry in a Time of Grief is a narrative about how poetry was the
spiritual practice that helped her learn to live fully again.