You hold space with us in this world for diverse women's voices. It is the call of our times to reach together across limitations to connect in rooms of our own making and to amplify each other's voices and our creative work.
We are excited to share a new vision for AROHO gatherings, Global Summer Camp. This is one way we are making more room. Inspired by women's requests in The Q and our recent "Voices of Women Artists during the Pandemic" webinar with St. Pauls College in Bangalore, we have imagined five days in August for breakthroughs in creative projects, women-led wisdom sharing, and joyous discovery.
________________________________________________________
Global Summer Camp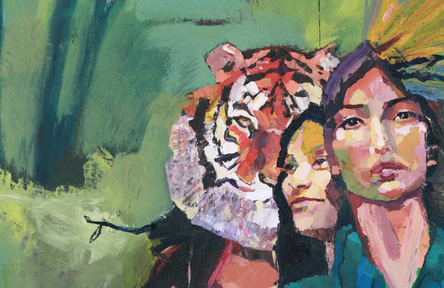 Available for 2- or 5-days. Funds support open-access submissions for diverse women around the world this 2020. Find more on Global Summer Camp here.
The first 5 women to register will receive a special Gift of Fellowship mentoring session for your creative projects! More details will be provided via email after your space is reserved.
________________________________________________________
"Bendita No. 4 A Gift to the Silenced"

Ink and Gold Leaf on Vellum paper, 2020

Maria Emilia Faedo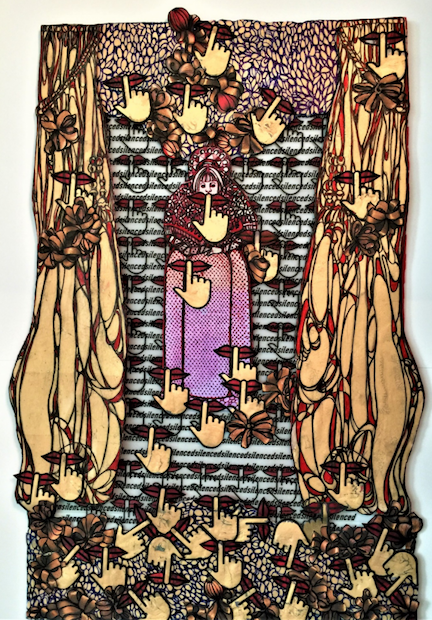 In 1961, I was an unaccompanied Cuban child arriving in Miami during kinder times. Today, my work is in collections such as FIU and USF Public Art. I received an Art Matters NY Fellowship and was featured on the Smithsonian's curriculum "Expressions of Assimilation." This is one of several mixed media Benditas who – neither virgins nor saints – stand as a visual reminder that rich forces of courage may be friends, sisters, teachers … Who they are and how they came into your lives is of little importance. What matters is that you stand ready to open your door. –Maria Emilia Faedo
________________________________________________________
"Disturb" by Melinda Jane, the Poet Mj
The first physical act of rebellion
is to speak words out loud to yourself.
The second act of rebellion
is to speak them out loud to another.
The third is to a crowd
an outcry
this is this, is this…
Betwixt
outcry is breath
the out of rebellion
in transmission of memes.
Respiratory infection
gestation of ideas.
Prayer
not taken up from demolition
words distill, disturb
the air.
Undercurrents of the unknown
direction.
I am the author of the poetry book, Nature's Nuptials, the children's book, The Currawong and the Owl, and fifty-three written works published in international anthologies and literature journals like Mekong Review, Rattle, Dime Show Review, Hawai'i Review, Rambutan Literary etc. – Melinda Jane, the Poet Mj