"102." by M. Nzadi Keita
My mother washed your weekly pile of panties
while pee tested her own body's drawstring
with a faint touch, then a nudge. She wanted
to get done, to skip the field. She wanted
to play. After she hung your drawers up
by the scant silk rim, made to catch your sweat,
she dropped her head into a quiet she could
own. This girl. Whom you called "Your Girl" or
"Your Day Girl" depending on the company–when
of course, she never was. Simply My Mother,
before Marriage-and -Children Camp. You having
a fancy moment, her having a nickel. Nobody looking
with a tilted, preordained lens at a ten-year-old female,
Negro, counting a times table. Wrapping a wish
like a grace note, like a string around her thumb,
a wish for wings. My mother squatted on the way home
after her portion of 'yes, ma'am.' Before having to make
rules and beds and trace the lines. She yanked
her own grayish cotton drawers aside to water a slope
of pine needles, far from your gaze. Far
from the shade of your house.
____________________
Share your response to this work, in any form, here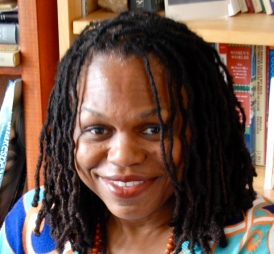 M. Nzadi Keita's Artist Statement: M. Nzadi Keita's collection of persona poems, Brief Evidence of Heaven (Whirlwind Press), sheds light on Anna Murray Douglass, Frederick Douglass's first wife for 44 years. Her journal publications include Crab Orchard Review, Mission at Tenth, American Poetry Review, and anthologies such as A Face to Meet the Faces: An Anthology of Contemporary Persona Poetry, and The Ringing Ear: Black Poets Lean South. Keita has received fellowships from the Leeway Foundation, the Fine Arts Work Center, and the Pennsylvania Council on the Arts. After stints as a data entry clerk, a security guard, a freelance journalist, and a community health educator, Keita is now an associate professor at Ursinus College, teaching creative writing, American literature, and Africana Studies.