Advisory Circle
Amy Berkower, Chairman of Writers House
Amy Berkower is Chairman of Writers House, one of the world's largest literary agencies, in addition to serving as AROHO's key NYC advisor. Ms. Berkower began her career as a literary agent in 1979 after graduating from University of California at Santa Cruz. She founded the now thriving children's book department at Writers House and has developed a diverse client list, including bestselling authors Nora Roberts, Ken Follett, Erica Jong, Sharon Creech, Laurie Anderson, Barbara Delinsky, Ann Martin, and Andrew Clements.
Fauzia Burke, Founder and President of FSB Associates
Fauzia Burke is Founder and President of FSB Associates, an internet marketing firm specializing in creating online awareness for books and authors. From the company's inception in 1995, Ms. Burke has been a trendsetter in developing integrated online marketing campaigns for authors and publishers alike. FSB has played a role in the success of numerous chart-toppers. Before starting FSB Associates, Fauzia worked for John Wiley and Henry Holt. She lives in Basking Ridge, NJ with her husband and two daughters.
Breena Clarke, Oprah Book Club author and Hobart Book Village Festival of Women Writers organizer
Breena Clarke, currently a resident of Jersey City, has written three historical novels. She has recently published Angels Make Their Hope Here, set in an imagined mixed-race community in 19th century New Jersey. Breena's debut novel, River, Cross My Heart (1999) was an Oprah Book Club selection and her critically reviewed second novel, Stand The Storm, set in mid-19th century Washington, D.C., was chosen by the Washington Post Book Review as one of 100 best for 2008. Breena Clarke is a member of the fiction faculty of The Stonecoast MFA Creative Writing program at The University of Southern Maine, and is an organizer of The Hobart Book Village Festival of Women Writers.
Breena blogs about the writing, editing and promoting process at: http://www.tumblr.com/blog/angelsmaketheirhopehere and www.BreenaClarke.com. Prior to publishing her novels, Breena administered the Editorial Diversity Program at Time Warner Inc. in New York City, where she mentored a number of young journalists and writers. 
Esther Cohen, author and Book Doctor
Esther Cohen is a published novelist and poet. She is a book doctor, teacher, cultural activist, and lover of words. Words and good stories have always been part of her work. She's taught writing at The New School and Manhattanville College, been a book publisher in Hebrew, English, and Arabic, a gallery curator, a labor union activist, and a creative director. As Executive Director of Bread and Roses, a national union cultural program, she developed Unseenamerica, giving cameras and classes to thousands of people around the country to reveal their stories from the perspective of what they see, and in 2013 she started Unheardamerica, a companion program telling stories. She's currently helping fast food workers to write down the stories of their lives.
She has written for Bob Marley, The New York Times, Jewish Currents Magazine, The Washington Post, and many other publications small and large. Esther has published five books including No Charge for Looking (Schocken Books), a novel about Jews and Arabs; Book Doctor (Counterpoint), a novel about writing books; God is a Tree (Pleasure Boat), poems about getting older; Don't Mind Me and Other Jewish Lies with Roz Chast (Hyperion Books); and Unseenamerica: Photos and Stories of Workers (Harper/Collins). www.esthercohen.com.
Judith Curr, founder of Atria Books, an imprint of Simon and Schuster, Inc.
Judith Curr is currently Executive Vice President, Publisher, and founder of Atria Books, an imprint of Simon and Schuster, Inc. She is responsible for all the editorial and publishing activities of the imprint, which includes Washington Square Press, Strebor Books, Atria/Beyond Words, and Atria Books Español. Atria Books is the publishing home of many major bestselling authors including Vince Flynn, T.D. Jakes, Shirley MacLaine, Jodi Picoult, Jennifer Weiner, Maria Celeste Arraras, Daisy Martinez, Brad Thor, Zane, and Rhonda Byrne's international bestselling phenomenon The Secret. Ms. Curr has led the Atria imprint since it was launched in 2002. Prior to Atria, Ms. Curr had been President and Publisher of Simon & Schuster's Pocket Books since 1999.
Jane Friedman, Co-Founder of Open Road Media
Jane Friedman, considered the queen of publishing in NYC, is the former chief executive of HarperCollins and co-founder of e-book publisher Open Road Media. Ms. Friedman is credited with inventing the author's tour, now a staple of the industry, and she founded and became president of the first audio books division of a trade publisher. Ms. Friedman has served on the board of the Association of American Publishers, Literacy Partners, Yale University Press, and Poets & Writers, Inc. She has been recognized as a Publishers Weekly Person of the Year as well as in The Wall Street Journal's 50 Women to Watch, Fast Company's Fast 50, and  New York Magazine's The Influentials.
Kenny Fries, award-winning memoirist and poet
Kenny Fries, memoirist and poet, is the author of numerous novels detailing his challenges related to his congenital birth defects and his triumph over them, including The History of My Shoes and The Evolution of Darwin's Theory (2007) and Body, Remember: A Memoir (1997). Mr. Fries has received numerous awards including the 2009 Capital Grant in Innovative Literature, the 2007 Gustavus Myers Outstanding Book Award, and a Fulbright scholarship to Japan, among others. An MFA graduate from Columbia University, Mr. Fries now teaches in the MFA Writing Program at Goddard College.
Leigh Haber, Books Editor for O, The Oprah Magazine
Leigh Haber is the Books Editor for O, The Oprah Magazine and a self-titled "book entrepreneur/editor/consultant." Leigh  began her career in book publishing as a news aide for The Washington Post's Book World. After moving to NYC, she became a publicity director for Harcourt Brace and other publishers, but her first love was editing. She has worked as an editor with such writers as Alice Walker, Gloria Naylor, Laurie Garrett, Steve Martin, Terry Gross, Peter Jennings, Lou Reed, Patricia Bosworth, The Kitchen Sisters, Senator Chuck Schumer, Bill Maher, and more.  She served as Editor-at-Large for Chronicle Books and as consultant to the publishing-on-demand platform Blurb and has held editorial roles at Scribner, Hyperion, and Rodale. With Rodale, Leigh oversaw editing for books such as An Inconvenient Truth by Al Gore and New Rules by Bill Maher.
Meredith Hall, author of Without a Map
Meredith Hall, who graduated from Bowdoin College at the age of 44, is also the Third AROHO $50,000 Gift of Freedom recipient. With that endowment she wrote her first book, Without a Map. Her other honors include a Pushcart Prize and notable essay recognition in Best American Essays; she was also a finalist for the Rona Jaffe Award. Hall's work has appeared in The New York Times, Creative Nonfiction, The Southern Review, Five Points, Prairie Schooner, and several anthologies. She teaches writing at the University of New Hampshire and lives in Maine.
Joy Harris, President of Joy Harris Literary Agency
Joy Harris established The Joy Harris Literary Agency in 1990, selling all rights pertaining to works of fiction and non-fiction. Her interest is in working directly with writers to help guide their careers, negotiate on their behalf, and protect their work; she takes great pleasure in finding new authors and, of course, in reading. Ms. Harris has worked with numerous reputable authors, many of whom she has represented since their first published work. She is most interested in literary fiction and narrative non-fiction.
Mary Johnson, author of An Unquenchable Thirst
Mary Johnson became the catalyst for the formation of A Room of Her Own Foundation when she met Darlene Chandler Bassett during a retreat at Ghost Ranch in Abiquiu, New Mexico. When Mary expressed her desire to write the story of her years serving as a nun with Mother Teresa, Darlene became Mary's benefactor. Mary has since graduated from Goddard College in Vermont with her MFA in creative writing and serves on AROHO's Advisory Council. Read more about Mary Johnson and her memoir An Unquenchable Thirst, named one of the best nonfiction books of 2011 by Kirkus Review. Mary has also written for The New York Times, The Washington Post, USA Today, O the Oprah Magazine, The Huffington Post, Bloomberg View, Religion News Services, The Humanist Magazine, Soujourners, and National Public Radio. Mary's work has been featured on CNN, MSNBC, Salon.com, Poets & Writers, The Los Angeles Times, The Daily Beast, and National Public Radio. Mary is also a Humanist Celebrant and was voted New Hampshire's best Wedding Officiant in 2015.
Barbara Jones, Executive Editor of Henry Holt and Company
Barbara Jones is Executive Editor of Henry Holt and Company. Before that she was Editorial Director of Hyperion Books and Voice. She will acquire fiction, memoir, and narrative nonfiction projects. She began her career in magazine publishing with editorial positions at Rodale, Inc., and Meredith Corporation. She started working in book publishing at Disney's publishing division.
Bhanu Kapil, author & teacher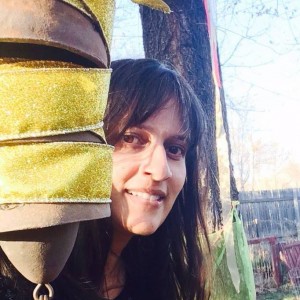 Bhanu Kapil is a multi-genre and multi-talented writer writing at the intersection of poetry, prose, and non-fiction. As a teacher, Bhanu focuses on generative, experimental writing practice: making a space where the writing can evolve from deep images, watermarks of all kinds, to become a completely alive, connective, reaching thing. Bhanu has written The Vertical Interrogation of Strangers (Kelsey Street Press, 2001), Incubation: A Space for Monsters (Leon Works, 2006), humanimal [a project for future children] (Kelsey Street, 2009), Schizophrene (Nightboat Books, 2011) and Ban en Banlieue (Nightboat Books, 2015). Most days, she writes up her research notes on her daily blog: www.jackkerouacispunjabi.blogspot.com. Bhanu lives in Colorado, where she teaches through earth memory, trauma, healing and narrative at Naropa University. She also teaches beyond the university frame, in retreat settings such as Shambhala Mountain Center and AROHO itself. Most recently, she taught a workshop on monsters and revision for Small Press Traffic in San Francisco. In April 2016, she will be teaching a workshop at Kalani (Hawaii) for Pele's Fire: Write to the Core | Kalani Retreat Center – Big Island, Hawaii
Dr. Kumkum Pareek Malik
Dr. Kumkum Pareek Malik is a mother of two children and a Clinical Psychologist. Kumkum's clinical work is based upon her belief that caring for others is real work. She believes that when a woman devotes her energies into caring for her children, or another significant other, she is participating in work that transcends ego, is powered by love, and is a major source of fulfillment as well as stress for her during her life journey. However, this work is invisible or minimized in society, leading to challenges to a woman's physical and emotional well-being.
Born and raised in India until she was twenty-five, Kumkum studied at Delhi University and completed graduate studies at The Massachusetts School of Professional Psychology and at the Harvard Graduate School of Education. She is a published author, sought-after speaker, and a valued leader of workshops that focus on a woman's journey of Motherhood.
Kumkum describes her greatest strength as the humility she experiences when sitting with a woman who is seeking transformation. www.aboutmotherhood.com.
Barbara Marcus, President of Random House Children's Books
Barbara Marcus, the children's publishing veteran and genius who brought Harry Potter to America at a price everyone could afford, now serves as President of Random House Children's Books. Ms. Marcus acquired the seven Harry Potter books when she was an executive at Scholastic.
Ellen McLaughlin, award-winning author, playwright, and actor
Ellen McLaughlin is an award-winning writer and playwright whose plays have received numerous national and international productions, including Days and Nights Within, A Narrow Bed, Infinity's House, Iphigenia and Other Daughters, Tongue of a Bird, The Trojan Women, Helen, The Persians and Oedipus, and most recently, Septimus and Clarissa, a critically acclaimed adaptation of Virginia Woolf's Mrs. Dalloway. McLaughlin is also an actor. She is most well-known for having originated the part of the Angel in Tony Kushner's Angels in America. Other favorite roles include The Homebody in Homebody/Kabul, Pirate Jenny in Threepenny Opera (Elliot Norton Award), Mrs. Alving in Ghosts and Agave in The Bacchae at LaMama. Her most recent publication, by T.C.G., is The Greek Plays.
Gail McMeekin, best-selling author specializing in creative women
Gail McMeekin began her career as a child and family therapist. In 1982 she began Guided Growth, where she specialized in career consulting and organizational workshops. Her first book, The 12 Secrets of Highly Creative Women, sold out its first printing in only 8 weeks and has been a bestseller. In addition to radio and television appearances, her work has been featured in Redbook, The Boston Globe, Health, Investor's Business Daily, Boston Business Journal, Woman's Day, Shape, One Spirit Bookclub, First for Women.
Marianela Medrano, author and poet
Marianela Medrano was born and raised in the Dominican Republic, and has lived in Connecticut since 1990. A poet and a writer of nonfiction and fiction, she holds a PhD in psychology, with especial focus on transpersonal psychology. Her literary work has appeared in numerous anthologies and magazines in Latin America, Europe and the United States, including: The Black Scholar 45.2: Dominican Black Studies (2015), Phati'tude (2012), Letralia (2011), Callaloo 23.3 (Summer 2000), Sisters of Caliban: Contemporary Women Poets of the Caribbean. New York: Azul Editions, 1997: 210-211, 384. Revista Surgai. Bilbao, España, diciembre 1995: 88-91, González-Gimbernart, Esther. "Coreografía de la imagen". Letras femeninas. XXII: 1-2 (1996): 155, among others. In 2015 she did a TEDTALK at Ursuline College: https://www.youtube.com/watch?v=8pQeBYd2oJk. Medrano is also a blogger for the American Counseling Association (ACA): http://www.counseling.org/news/blog/authors/marianela-medrano The following are her individual publications: Oficio de Vivir (1986). Santo Domingo: Editorial Buho Los Alegres Ojos de la Tristeza (1987). Santo Domingo: Editorial Buho. Regando Esencias/ The Scent of Waiting (1998). New York: Alcance Curada de Espantos (2002). Madrid: Ediciones Torremozas. Diosas de la Yuca (2011). Madrid: Ediciones Torremozas Prietica (2013) Santo Domingo: Alfaguara
Sandi Mendelson, CEO of Hilsinger-Mendelson East
Sandi Mendelson has established Hilsinger-Mendelson as the nation's preeminent literary public relations firm, as well as leading the successful expansion of its services to include image- and brand-building campaigns for diverse individuals and industries, as well as a digital media consulting division. From Hilsinger-Mendelson's office in New York, which she launched in 1983, she recently guided campaigns for the #1 New York Times bestsellers Suzanne Somers' Sexy Forever, Knockout, and Ageless, Nigella Lawson's Nigella Kitchen, Donald Trump's Think Like a Champion, Larry King's My Remarkable Journey and Truth Be Told, among others.
Poppy Montgomery, actress
Poppy Montgomery is star of CBS's "Unforgettable," returned to the air July 28, 2013. An Australian actress, Montgomery began her career at age 18 in Los Angeles with breakthrough roles in shows such as "NYPD Blue" and "Party of Five." She is best known for her character of FBI agent Samantha Spade in the CBS TV series "Without a Trace," but received critical acclaim for her role as Marilyn Monroe on the 2001 CBS mini series "Blonde" based on the novel by Joyce Carol Oates. Recent roles include author J.K. Rowling in the TV movie "Life Beyond Words."
Marsha Rosenzweig Pincus, teacher, playwright, and creative consultant
Marsha Rosenzweig Pincus is a post mid-life, post-career woman writing for her life. After more than three decades of teaching in Philadelphia public schools and at the University of Pennsylvania, Marsha retired in 2011 to write full time. AROHO changed her life and gave her the confidence and community to flourish as a writer and mentor for other creative women. Since 2009, she has teamed up with AROHO alumna Liz Bedell to create "Many Women, Many Stories" and "A Room of Our Own Making" – writing retreats for women teachers. She has also endowed the "Touching Lives Fellowship" for a public school teacher to attend the Ghost Ranch retreats. Her one-woman show "Chalkdust," about her experiences as a young teacher in inner city Philadelphia, was performed in Santa Fe in 2015. From that show grew "Teaching Out Loud," a project where teachers learn to write and perform their stories as a way of bringing their voices into the public dialogue about education. After decades of helping young people develop their writing ( four of her high school students had their original plays produced off-Broadway ) Marsha is offering her creative consulting and development editing knowledge to other post-career women, looking to take themselves seriously as writers. In 2016, she bought the house and guest house in downtown Santa Fe, where she had stayed when writing "Chalkdust." Wanting to create for other women what she'd created for herself in that space, Marsha has turned her guest house into the "Two Ravens Studio Retreat for Creative Women." Here women can come and have a "room of her own" to develop new projects, work on ones in need of completion within a supportive, nurturing environment. You can read more about Marsha, her writing, and her projects for women at www.marshapincus.com. 
Marilynne Robinson, Pulitzer Prize-winning author
Marilynne Robinson has written three highly acclaimed novels: Housekeeping (1980), Gilead (2004) and Home (2008). Housekeeping was a finalist for the 1982 Pulitzer Prize for Fiction (US), Gilead was awarded the 2005 Pulitzer, and Home received the 2009 Orange Prize for Fiction (UK). She has been writer-in-residence or visiting professor at many universities, including the University of Kent, Amherst, and the University of Massachusetts Amherst' MFA Program for Poets and Writers. She currently teaches at the Iowa Writers' Workshop, where in 2011 she spoke for the organization's 75th anniversary.
Tess Sanchez, Senior Vice President of Casting, Fox Broadcasting Company
Tess Sanchez is the Senior Vice President of Casting for Fox Broadcasting Company, where she works with a bi-coastal casting team to secure highly in-demand talent for the network's developing projects and series. Sanchez has also worked as an independent casting director and as Vice President of Talent and Casting for the WB (later, the CW). While with the WB, she worked with writers Ryan Murphy, Greg Berlanti, and Kevin Williamson, helping to discover and develop talent for such shows as Felicity, Dawson's Creek, Buffy the Vampire Slayer, Angel, Popular, Smallville, One Tree Hill, and Supernatural.
Debra Schultz, Ph.D., feminist historian and author
Debra Schultz, Ph.D. is a feminist historian and the author of Going South: Jewish Women in the Civil Rights Movement (NYU Press, 2001). She was the founding Director of Programs for the Network Women's Program of the Open Society Foundations (of George Soros) which work to "build vibrant and tolerant democracies whose governments are accountable to their citizens." Her work with the NWP included building regional women's networks and developing new frameworks for women's human rights activism in the Balkans and former Soviet Union. She has taught on topics ranging from the politics of memory to multicultural U.S. women's history to the history of Black-Jewish relations at places such as the New School University, Rutgers University, and Laguardia Community College. Ms. Schultz is the former assistant director of the National Council for Research on Women and has served as an advisor and featured presenter for the Jewish Women's Archive. She was a CUNY Graduate Center Writing Fellow, and she currently serves as assistant professor at Kinsborough Community College in Brooklyn, NY.
Jane Startz, founder of Jane Startz Productions, Inc., and co-founder of Scholastic Productions
Jane Startz, a film producer specializing in family entertainment, formed her own independent production company, Jane Startz Productions, Inc., in 1997. Ms. Startz is the co-founder and was Executive Vice President of Scholastic Productions, the film and television division of Scholastic Inc., the largest publisher of materials for young people in the English-speaking world. Ms. Startz initiated SPI's feature film effort and produced its first two motion pictures: The Indian in the Cupboard (1995), based on the contemporary classic by Lynne Reid Banks, and The Baby-Sitters Club (1995), based on the phenomenally popular book series by Ann M. Martin. Ms. Startz also launched Scholastic Productions in the television series arena with the long running comedy series, Charles in Charge (1984), as well as the hugely popular children's series, The Magic School Bus (1994). Jane Startz Productions has continued Ms. Startz's reputation as one of the most respected producers of children's book adaptations. So far, JSP has produced two feature films, Disney's Tuck Everlasting (2002) and Miramax's Ella Enchanted (2004), both based on classic young adult novels. JSP is in development on many projects with some of the world's leading children's novelists. Ms. Startz has received over fifty major awards in the category of children's and family programming. These include 2 Golden Globe Nominations, 6 Emmys, 10 Emmy Nominations, 2 Ace Awards, Parents' Choice Awards, and an Action for Children's Television Award. Jane Startz lives in New York City with her husband and their three children.
Shana Stein, producer
Shana Stein is currently the co-executive producer of the CBS TV series "Unforgettable." She has also served as producer of films such as Hell Ride (executive producer: Quentin Tarantino) and Restaurant (starring Adrien Brody), and associate producer and co-producer of USA Network's TV series "Monk." Ms. Stein also has a handful of acting billings including the role of Daughtrey Bitty in Quentin Tarantino's Django Unchained. Her past work also includes production of music videos and serving as director of development for Steve Golin's production and management company, Anonymous Content. She teaches in the UCLA Extension Entertainment Studies program and lives in Los Angeles.
Liza Wachter, co-founder of Rabineau Wachter Literary Agency
Liza Wachter co-founded the Rabineau Wachter Literary Agency (now RWSG Literary Agency) with Sylvie Rabineau in 2000. RWSG is a Los Angeles literary agency that represents exceptional writers of books, film and television. In addition to representing the dramatic rights to books, RWSG maintains a top tier roster of film and television writers. Prior to RWSG, Liza was an editor at Birch Lane Press. Before that, Liza worked as an attorney at the New York firm of Shearman and Sterling. Currently, she serves on the Board of The Paris Review. She lives in Los Angeles with her husband and three children.
Michelle Wing, author and organizer
Michelle Wing Michelle Wing is a writer of poetry and creative nonfiction. She is author of Body on the Wall (Saddle Road Press, 2014) and editor of Cry of the Nightbird: Writers Against Domestic Violence (WolfSinger Publications, 2014). During her years in Northern California, Michelle founded "Changing Hurt to Hope: Writers Speak Out Against Domestic Violence," a program at the YWCA, and launched a successful reading series, "Books on Stage," both in Sonoma County. She also has a fifteen-year background in journalism, working on weekly newspapers and as a freelance magazine writer. In January 2016, Michelle and her wife Sabrina relocated to Las Cruces, New Mexico, where she began photographing all the desert plants she couldn't identify. Michelle is assisted in all her endeavors by her service dog, Rocky. (For any of you who know Ripley, please don't worry. She is still with Michelle; she is simply retired now, at age eleven and a half, and trying to learn how to take it easy.) Michelle blogs about life with a service dog at www.caninebodhisattva.com. For more information, see www.michellewing.com.