Our Gift of Freedom
Did the Gift of Freedom process help you make your project real?

Honor this radical connection by sharing your AROHO story with us.

Our favorite stories and resulting projects will be displayed on the AROHO Books and Art pages.
Love one of the Gift of Freedom essays you've written or interpreted through art? Share it and it will be read or viewed.

Our favorites will find a place in our online Confluence of Voices.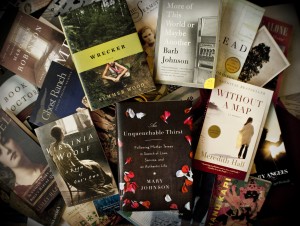 We've been walking to the edge of something.

That something is more than we could ever expect to deserve—

open-sourced, self-determined, self-sustaining bounty.

We don't have to wait, we don't have to compete, and there are no gatekeepers or deadlines here.
Our Gift of Freedom process is like no other.
Time spent sitting with these five prompts will change your creative life.
The insight, progress, and clarity you gain are fuel to make your Creative Project Plan real.
Thousands of women have already demonstrated the courage to face their creative reality and make their way forward in large or small, but always significant ways.
Now, with each other's help, we will create new ways to find our way forward in this life-changing process together.
---
Essay A: Financial Status
Describe the relationship between your financial status and the actualization of your artistic project.
Essay B: Artistic response
Respond, in any genre or media you wish, to one or all of the following three quotations from Virginia Woolf's A Room of One's Own.
"Five hundred a year stands for the power to contemplate,…a lock on the door means the power to think for oneself."
"Poetry ought to have a mother as well as a father."
"Women have sat indoors all these millions of years, so that by this time, the very walls are permeated by their creative force, which has, indeed so overcharged the capacity of bricks and mortar that it must needs harness itself to pens and brushes and business and politics."
Essay C: What writing or art means to me
Examine your writing or art, its importance to your life and everything else pertinent to this question.
Essay D. Community benefit
How would your creative project benefit the community at large?
Creative Project Plan
What practical steps have you already taken in the pursuit of your writing or art?
Define your creative project and its practical aspects including a budget and a timeline through completion, publication, or showing.