Austin AROHO Day Conference, 2010 & 2012
Contact Lisa Estus with questions about the Austin AROHO Day Conference: http://lisaestus.com/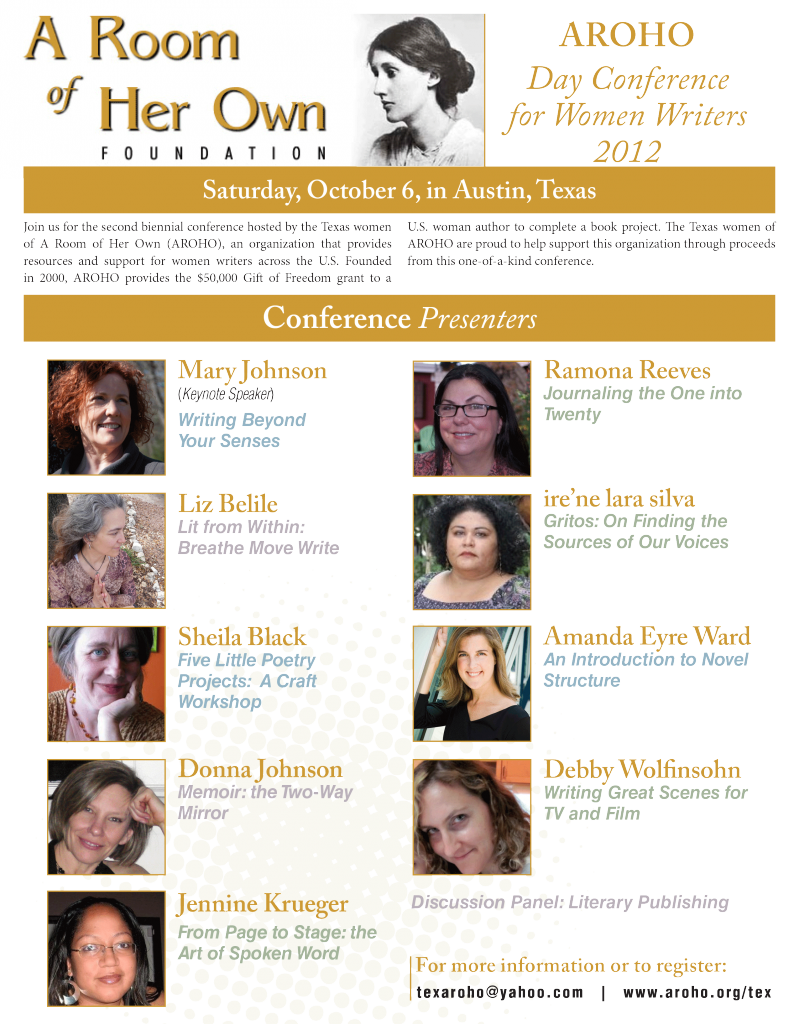 Please describe your gathering.
Ramona Reeves: The Texas AROHO gathering was a one-day women's writing conference held in Austin Texas in November 2010. It was held in a year between official AROHO retreats at Ghost Ranch. We thought we would continue to hold it in off years.
Lisa Estus: I produced the AROHO Day Conference for Women Writers 2012 in Austin, Texas, along with a group of dedicated volunteers. The conference was a one-day event of workshops followed by an evening reading at Book Woman, a local feminist bookstore. The programming included craft workshops in fiction, poetry, spoken word, screenwriting and memoir, and experiential workshops combining creativity and movement. It also included a panel on literary publishing featuring editors of literary journals. The 2012 day conference was a sequel to the AROHO Day Conference for Women Writers 2010, produced by Ramona Reeves, for which I served as a volunteer.
How do you feel your gathering was AROHO inspired?
Ramona Reeves: The first event was held to celebrate AROHO's 10th anniversary. As someone who'd been to two AROHO retreats, I wanted to capture the feel of the weeklong retreat, in particular the feeling of support, camaraderie, safety, and a special, almost "otherwordly" place to inspire women writers. In other words, I set out to create the Reader's Digest version of the longer retreat. We chose a space called Casa de Luz that offers a healthy lunch and several meeting spaces as well as quiet and private places to write among bamboo, palm, and oak trees.
Lisa Estus: Very directly! The AROHO Day Conference for Women Writers 2010 in Austin grew out of Mary Johnson's request of Ramona Reeves at the 2009 AROHO Retreat. Mary asked Ramona to produce a local, community-based event to spread the message of AROHO. Ramona recreated the feel of the retreat at Ghost Ranch by choosing an intentional living community—a location with natural beauty and a peaceful environment—as a location. In 2012, Ramona asked me if I would take the lead, and I accepted the challenge happily.
What was your original goal and did you accomplish it?
Ramona Reeves: The original mission was to bring AROHO to women who had not heard of it or could not attend a weeklong retreat. Yes, although the gathering was small the first year, maybe 30 women total, we accomplished bringing AROHO to a new audience. I was lucky to find Lisa Marie Estus to help me. I could not have done the first without her. Really. I was going through a divorce, teaching part-time, and looking for a job. I had moved back to Austin in June that year and we scheduled the conference for November. We didn't begin planning in earnest until August. I honestly wasn't sure I could do it, but I made a commitment to Mary Johnson earlier that year to host an event in Austin and honored that commitment, because to me, that is the story of AROHO: Women committing to and honoring their commitments to other women writers.
Lisa Estus: As chair for the 2012 event, my goal was to honor and build on the foundation laid by Ramona in 2010. We were successful: we kept the warmth and intimacy and we tripled attendance. I worked with AROHO leadership to connect our local event back to the AROHO Foundation—using the logo, images and messages—so everyone who attended would understand they were now part of a wider network of women artists.
We intended to create an event for women artists to be nourished with each other's presence in a calm and beautiful environment, enjoy a variety of exciting workshop content, and meet working artists. These goals were realized. We hoped that the group of women would stay in touch afterwards, and many did.
We aimed to make the day conference a welcoming place for all women. We engaged an ethnically diverse group of workshop leaders and panelists and made efforts toward drawing a diversity of attendees; for example, reaching out to Huston-Tillotson University, Austin's Historically Black College.
We distributed anonymous questionnaires at the end of each workshop, and encouraged all participants to complete them. Overall, we received outstanding written feedback from attendees in addition to enthusiastic verbal remarks. We also got some great suggestions!
What about your gathering made it unique?
Ramona Reeves: It was a full day of workshops (each attendee could select three, as I recall), along with a keynote, followed by reading at local women's bookstore and many opportunities for networking. It was unique from other events in our area because it catered to women writers only and included a mixture of beginning to advanced writers. We included Gift of Freedom winners Meredith Hall and Barb Johnson the first year as teachers. We were able to fly them in with generous donations of airline miles. I hosted Barb and Meredith stayed with friends, so it wasn't terribly expensive. Plus, we offered them and other women who taught a $100 honorarium. I felt it was very important to pay women writers for their time, even if it was a modest offering.
Lisa Estus: Our programming was unique. We offered sessions led by AROHO co-founder Mary Johnson, who also gave an inspiring keynote address, and other nationally acclaimed and locally beloved artists on the craft of fiction, poetry, spoken word, memoir and screenwriting.
We had programming that combined creativity and physicality in exciting ways. Liz Belile's workshop, "Lit from Within: Breathe Move Write," led participants through yoga moves to access the body as a starting and ending point for writing. ire'ne lara silva, a finalist for AROHO's 6th Gift of Freedom, led a workshop on vocal experimentation adapted from a Mexican cultural tradition called, "Gritos: On Finding the Sources of Our Voices." Ramona Reeves led participants on a hike-and-write in her Virginia Woolf-inspired session "Journaling the One into Twenty."
Finally, the AROHO Day Conference for Women Writers, 2012 and 2010, were unique in that they were the only Austin-based conferences specifically intended for women writers. One attendee, poet and writer Allyson Whipple, met with me in 2013 to talk about how to put on a similar event. She went on to produce the Austin Feminist Poetry Festival in 2014.